'The Bachelorette' Season 12 Finale Proves Why the Series Needs a Queer or Nonwhite Star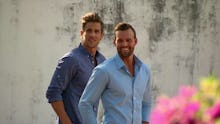 On Monday night, the star of season 12 of The Bachelorette, JoJo Fletcher, made her final choice between handsome, hair-gelled white dude Jordan Rodgers and handsome, hair-gelled white dude Robby Hayes.
(Editor's note: Spoilers ahead for the season 12 finale of The Bachelorette.)
She went with Jordan, whose floppy hair, strong jaw and medium-good personality made him a frontrunner throughout the season. But what was striking about the season finale was that, all-in-all, it was kind of boring — signaling once again that the series needs a shake-up.
After so many seasons, featuring both male and female suitors, the Bachelor empire has become a well-oiled machine. This finale was solid, churned out of a machine that reliably makes good TV. There were tears, romantic speeches and a proposal by the beach. It was a carbon copy of many finales before it — fine, but in no way insightful or exciting.
This season of The Bachelorette was so mechanical that it winnowed down the original 26 male contestants to a top four that were almost alarmingly identical. Jordan, Chase, Robby and Luke were such a quartet of sameness that viewers couldn't help but notice that, when arranged in a row, they looked a lot like four copies of the same scruffy, shiny-toothed white dude.
But this isn't the show's fault, one could argue. JoJo has a type — and her type happens to be boring white cis dudes with chiseled abs and even more chiseled hairdos. No offense to any of the dudes who didn't fit that mold (like every person of color cast this season); they're just not her cup of tea. One can question JoJo's choices, yes, but it's unquestionable that ABC delivered her what she wanted.
That's exactly the problem, though. If The Bachelor and The Bachelorette keep choosing the same kind of stars, those stars are likely to choose the same kind of finalists, and we'll be stuck in a never-ending cycle of boring, straight, white sameness where the most drama we can hope for is from a buff, cold-cut-eating villain (we're looking at you, Chad).
It's become basically a rule in the world of The Bachelor that each season starts off with a few people of color in the mix as contestants, but the finalists tend to be exclusively white. There have been bachelors who aren't white (Juan Pablo Galavis of season 18, for instance). But there's never been a black bachelor or bachelorette, and there's never been a black winner. Amid all the talk of families, parents and life philosophies, there's hardly anything ever said about race. 
UnReal, on the other hand — the fictional, dramatized send-up of The Bachelor — gave its fictional dating show a black star in season two and made race a central part of the on-screen discussion. Maybe it's time for the real-life Bachelor franchise to do the same. Hiring people of color to helm the Bachelor could bring a new perspective, and would give the show a boost away from the tedious monotony of this most recent season.
There's also never been an out queer person on The Bachelor or The Bachelorette — in dozens of combined seasons of the shows. Same-sex marriage has been legal in the entire U.S. for more than a year now — it's finally possible in any and every state for us to see a girl in a sparkly gown get down on one knee in front of another girl in a sparkly gown on a Bachelorette finale. So why haven't we?
That's not to say the show should immediately cast a bisexual star and bring in 13 men and 13 women to compete for their heart, Tila Tequila-style, but maybe it's time to have someone on the show who's open about not being straight. What about a contestant who talks about his ex-girlfriends and his ex-boyfriends? What if we have a queer bachelorette, and there are some lady contestants who pull up in the limo to meet her?
To exclude out queer people from the world of The Bachelor is to suggest that queerness can't be part of a narrative about true love, marriage and romantic fantasy — but there are plenty of queer people who would love to be swept off their feet with a horse-and-carriage ride, or offered a gigantic diamond ring. There are lots of LGBTQ people who want marriage and families and everlasting love, and who also want to sell their souls for a chance at reality television fame.
At the very least, a queer person or a woman of color as the star of the show would give us a chance at a finale that didn't come down to a choice between two nearly identical white dudes, which is basically what we saw Monday night. If the tedium of the end of season 12 shows us anything, it's that The Bachelorette needs that change.
Read more: