Watch the Patriarchy in Action as a News Anchor Tries to Kiss His Female Coworker on Air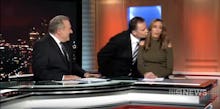 There are a lot of things we all know not to do. Unwritten rules of decency and decorum guide us in how we should conduct ourselves in a modern society. That you should refrain from kissing your coworker — on live television no less — is definitely among them. 
(That one, of course, is even written down and filed under the category of sexual harassment.)
But none of these universally acknowledged truths deterred 9News anchor Tony "Chompers" Jones, who leaned in to smooch his colleague Rebecca Judd farewell on her last day before maternity leave. 
The anchor sitting opposite Judd begins with a fairly standard send-off, saying, "We'll all miss you but of course everyone in the newsroom sends much love and very best wishes."
Judd replies, "I'll miss you all too. Wish me luck — I'm going to need it!" Though Judd was presumably referring to giving birth to a set of twins, she could've used some well wishes (or pepper spray) for what was about to happen next. After making some more small talk, Jones swoops in for a kiss which Judd recoils from with a surprised, "ooh!" 
"Good, this is going well," Jones says in an attempt to laugh off the incident.
Judd has rebuffed Jones on air before, telling him simply "no thanks" when he asked if she wanted to come over for a barbecue over the weekend. 
While a tongue-in-cheek, joking rapport is typical among local news hosts, there is of course a fine line between, say, kissing your coworker and not kissing them. 
Human Resources might also agree.
Read more: