Alaska Aims to Keep Doctors Out of Classrooms With New Sex Ed Restrictions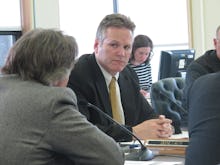 Republicans are taking their battle against Planned Parenthood to a new frontier: Alaskan classrooms, and sacrificing sex education resources despite sky-high rates of sexually transmitted infections among teens. 
The Juneau Empire recently reported that after months of debate, Republican Representatives Wes Keller and Senator Mike Dunleavy helped push House Bill 156 into law, which includes an amendment that will make it incredibly difficult for healthcare professionals to teach in public classrooms. 
Last Thursday, Dunleavy posted a celebratory Facebook status thanking the governor for allowing this new law.
Sexual health is an especially important topic for Alaskan youth. According to the Center of Disease Control and Prevention, by 2013 Alaska had the highest rate of chlamydial infections out of 50 states, plus the fourth highest rate of gonorrheal infections. 
To make matters worse, the CDC report shows that 59.6% of sexually active teens didn't use a condom the last time they had sex. Even before that survey, the Alaska Division of Public Health noticed in 2012 that a hefty chunk of growing STI infections were among teens aged 15 to 19: 24% of chlamydia cases were among teens aged 15 to 19, as well as 12% of gonorrhea cases.
While Planned Parenthood used to teach and provide materials for sex education classes in school across Alaska, this new law requires anyone who teaches sex education to either be a certified teacher under contract with the school, or to be supervised by a teacher on staff, according to the Alaska Dispatch. Instructors also need to be approved by local parents and the school board, in addition to having all their curricula and classroom materials pre-approved. 
Critics are concerned this push to make sex education yet another responsibility on the plates of overworked public school teachers is a moralistic move, not a legitimate attempt at educational reform. 
"This (House Bill 156 amendment) is specifically singling out sex ed and reproduction education versus any other kind of education," activist Butch Moore told Juneau Empire. 
So let's see how many Alaskan teens get chlamydia now.
Read more: