Who Is the Next 'Bachelor' and When Does the Next Season Air? Here's What We Know So Far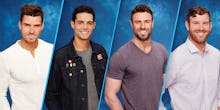 The 12th season of The Bachelorette wrapped up Monday night, and everything went about as expected. JoJo Fletcher chose Jordan Rodgers, and Robby Hayes went home the brokenhearted runner-up. Really, the only shock to be had was that Chris Harrison continued to break from tradition and didn't announce who the next Bachelor will be on After the Final Rose.
So we don't know who the star of The Bachelor's 21st season is, nor do we know when it'll be — although considering the last two seasons started in January, the first month of 2017 is a safe bet. What we do know is that there are several options for who the next Bachelor will be. Are they strong contenders? Not particularly! But they're what we have, and ABC will have to make it work.
With that in mind, here are seven potential stars — and the odds for each, listed from least likely to most likely.
Chad
Odds: 100-1
Despite attempting to plead his case as to why he should be the next Bachelor (on live television, no less), Chad is not going to be a romantic lead any time soon. He's meant to play the 'roided-up buffoon, not the star. That's why ABC is heavily featuring Chad in promos for Bachelor in Paradise this season. His best shot at love is there — and good luck to him.
Chase
Odds: 50-1
Literally the only reason Chase is not sitting at the worst odds on this list is because Chad is on it. Chase making it to the final three of this season is an indictment of how bad the casting was. JoJo was literally just passing time until she could pick Jordan. He's bland, unexpressive and has only the faintest whiff of charisma. Pass.
Wells
Odds: 30-1
Listen, Wells is the best. You know it, I know it, the fans know it. Wells gets on Snapchat drunk and recaps The Bachelorette. Wells wears tiny red shorts. Wells was the unexpected fan favorite. Wells also has virtually no muscle tone, a boyish face and a great career. Wells is fine. He doesn't need The Bachelor, and ABC would never pick him, much as we (read: I) might want them to do so.
James Taylor
Odds: 15-1
James Taylor is like Wells in that he's lovable and felt like a mismatch when grouped together with the rest of JoJo's chosen men. But unlike Wells, he served as an actually viable romantic interest for JoJo. He's a nice guy and charming. If ABC wanted to go with a music-themed season, why not pick a singer-songwriter like James Taylor as the star?
Robby
Odds: 10-1
Poor Robby seemed genuinely devastated when JoJo didn't let him propose Monday night. Considering JoJo was coming off her own heartbreak when she was cast as the Bachelorette, and this season turned out pretty dull, Robby would be a risky choice. But as the runner-up, he will automatically get considered — though if producers want to go with a man from the final stretch of the season, there are at least two juicier options.
Jordan
Odds: 7-2
Hear me out! Yes, Jordan is engaged to JoJo. But despite talking about their love endlessly on After the Final Rose, their body language wasn't exactly the warmest. Rumors dogged their courtship for months after The Bachelorette was shot, the most persistent of which was that Jordan was actually trying to become the next Bachelor, not win JoJo's heart. If JoJo and Jordan do break up, a season starring Green Bay Packers quarterback Aaron Rodgers' brother might be too tempting for ABC to resist.
Luke
Odds: 2-1
That said, barring a Jordan reversal, the next Bachelor will be Luke. He's a hometown boy who fits with the series' increasingly tight focus on family values. A ranch-themed season would be a nice setting for ABC to work with. Sure, he's not the most charismatic, but he's beautiful and an easy sell to the Bachelor audience. 
It's almost certainly going to be Luke — and fans will just have to pray that the casting department pulls out all the stops when casting the women of his season. Because otherwise, his Bachelor will make JoJo's dull-as-dirt season look positively thrilling.
Read more: