Drake and Kanye West's joint mixtape might actually break the internet beyond repair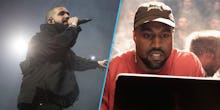 Monday night, Kanye West appeared on the final night of Drake's OVO fest to drop a bombshell on hip-hop. Silencing an ongoing Kanye chant, he asked the audience if they were ready for another album — not his recently released Life of Pablo, or Drake's hit Views, but "this album," pointing to Drake who suddenly joined the Chicago hitmaker on stage. The crowd erupted in applause at the hint of a new collaboration, which follows a previous interview in which Drake said he'd be interested in completing a mixtape with West. 
It was truly a revelation. A joint Drake and Kanye album wouldn't just break the internet: it would destroy it beyond repair, forcing both listeners and the music industry to rethink the current state of hip-hop, music streaming and collaborative projects entirely. 
Both rappers have experimented with the collaborative album format before — with mixed results. Back in 2011 — an entirely different century as far as hip-hop timelines go — West linked with his "big brother" Jay Z to cut the lavish, boisterous Watch the Throne. It produced a huge single, though couldn't really live up to the number of times the pair tried to replay it, and showcased some clever production, but now stands as somewhat of a minor note in Yeezy's epic catalog.
Drake and Future's recent What a Time to Be Alive went for a similar effect, essentially aiming to intimidate listeners with the level of star power it contained. But the songs didn't live up to the hype.
However, a Yeezy-Drizzy collaboration seems to have far more potential than either project had. The intrigue behind Watch the Throne and What a Time to Be Alive was centered on the divergent styles of the rappers they contained. West does not have the unflappable, mafioso calm of Jay Z and Drake cannot spit a Percocet and stripper joint with the same self-destructive relish as Future. Yet both rappers tried to mime their opposites. And their attempts fell flat.
West and Drake's styles and artistic impulses, on the other hand, are far more closely aligned. Yeezus essentially invented the exultant, confessional raps Drake now regularly shoots to the top of radio charts. Both rappers know how to lean into a pop culture call-out to grab headlines; see all off Kanye's "Famous" Taylor Swift drama and Drake's extremely relatable "Cheesecake Factory" line. West's unquenchable thirst for innovation, might also be exactly the thing Drake needs to stop him from rehashing the same navel-gazing stories album after album.
Additionally, both would likely be aware of how groundbreaking their pairing would be in terms of the future of the music industry.
If Drake and West were to release a joint album, exactly how — and where — that would happen remains a mystery. West went on a Twitter tirade recently, writing "this Tidal Apple beef is fucking up the music game," demanding he, Drake, Scooter, Jay Z, Jimmy, Larry and Tim Cook all discuss the ordeal in a meeting — something that would undoubtedly make for an incredible music video. Meanwhile, Drake's deal with Apple Music is rumored to be extremely lucrative for the Canadian rapper.
There would be no better way to dissolve this exclusivity bickering than with a bipartisan masterpiece. We await Drizz-yeezy's coming in glory with bated breath.
Read more