Instagram Update Essentially Makes the App Into Snapchat — And People Are Calling It Out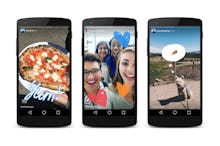 Worlds collided when Instagram announced a new feature that basically turns the photo-sharing app into Snapchat. The feature, introduced in a blog post on Tuesday, is called Instagram Stories. Sound familiar? It's a lot like Snapchat Stories. 
Just like on Snapchat, you can draw and write on your photos, and the photos disappear. Your Instagram Stories only last for 24 hours and don't show up in your profile or in your followers' feeds. 
Instagram Stories will show up at the top of your feed. When someone has posted a new story, their little profile photo will have a colored ring around it. Tap that round profile photo to view someone's story. 
_____________________________________________
Read more:
You can't publicly comment or like someone's Instagram Story. You have to send them a direct message if you want to say something about it. 
As far as privacy goes, if your profile is public, your stories will be public. If it's private, only your followers can see it. One cool feature is the ability to hide your story from a specific person. And like Snapchat, you can see who's viewed your story by swiping up. 
The feature will roll out over the next few weeks. 
People are calling out Instagram Stories as a blatant Snapchat ripoff on Twitter: