Google's "Stay in the Loop" Feature Reveals What People Are Saying About You Online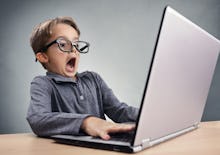 Kim Kardashian West doesn't have time to Google herself multiple times a day. She uses Google Alerts to receive notifications whenever she pops up in the news. And though the Daily Mail made fun of her for "keeping up with" herself, Kardashian West should be applauded. Google Alerts are a smart, efficient time-saver. And now Google wants everyone to use them.
Try Googling yourself today, and you'll find a new result: Below your LinkedIn and Twitter pages, you'll get a box that asks you to "stay in the loop." Click through, and you'll be prompted to set up a Google Alert for yourself. 
Basically, Google's making it really easy for anyone to track their mentions in real time. So have fun learning who's dragging your good name through the digital mud.
_____________________________________________
Read more:
You can select how often you'd like to read about yourself. (Once a day is probably more than enough for most people.)
Google Alerts have been around since 2003, according to Digit.in, but they're not well-known outside of the news business. Journalists use Alerts to gather updates on a particular topic (yourself included) when they don't want to bother creating custom feeds on Google News. 
The unsettling part: Constant updates on yourself reveal how much information Google has on you. If you want to see Google's full dossier on who you are, what you know and where you go online, go to the My Activity page. Google is transparent about what it knows, and it also lets you change the settings to control what part of your web history gets tracked. Unfortunately, few people know about this feature. 
I have my own My Activity restricted to only YouTube videos, so I'll let Google figure out what to do with deeply personal information like this.
If the next version of Stay in the Loop could track subtweets, I'd be deeply grateful.