Donald Trump Might Not Know How to Eat Fried Chicken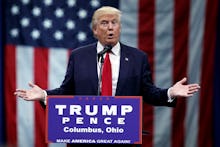 It's quite possible that the Republican presidential nominee does not know how to properly eat fried chicken. On Monday, Donald Trump tweeted out a photo of himself eating fried chicken from KFC on a private jet. Trump posed above the food with a fork and knife with quite the grin on his face.
The image is problematic in many ways: According to KFC's previous slogan, "finger lickin' good," reveals that the chicken is meant to be eaten with hands. Even more, Trump's table is equipped with a salt shaker. As the Consumerist noted, the chain doesn't exactly have a delicate hand when it comes to sodium. Three pieces of KFC's Original Recipe Chicken Drumstick contains 1,240 milligrams salt, over half of the Food and Drug Administration's recommended daily intake. Consuming too much salt is associated with higher risk for high blood pressure, stroke and heart attack, according to the Harvard School of Public Health. 
_____________________________________________
Read more: 
Twitter definitely had an, err, bone to pick with the candidate's choice to eat fried chicken with silverware: 
Trump posted the harrowing photo on his way to Virginia after campaign events in Ohio and Pennsylvania. One can only hope he wasn't posing with fried chicken in an effort to be more relatable to voters in the south, as Twitter user Katherine Rhodes suggested. 
Trump has a history of insulting entire populations of people through his food choices. In May, as Mic previously reported, the candidate tweeted out a photo of himself eating a taco bowl in celebration of Cinco De Mayo with the phrase "I love Hispanics!" Trump failed to realize, sadly, that taco bowls aren't exactly an authentic Mexican dish. But hey, at least he was properly using utensils in that case.