Obama Goes Nuclear on Trump: "The Republican Nominee Is Unfit to Serve as President"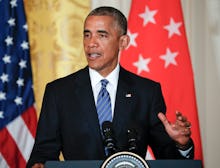 President Barack Obama sharply escalated his attacks on Republican presidential nominee Donald Trump on Tuesday, declaring that the GOP standard-bearer's attacks on the Muslim family of a slain Iraq veteran shows that he's "unfit" to serve as commander in chief.
"I think the Republican nominee is unfit to serve as president. I said so last week," Obama said at a White House news conference with the prime minister of Singapore, referring to his speech at the Democratic National Convention. "And he keeps on proving it."
Denouncing Trump's criticism of Khizr and Ghazala Khan, whose son Humayun was killed in action in Iraq and who blasted Trump's anti-Muslim proposals in an appearance at last week's convention, Obama pronounced the real estate tycoon "woefully unprepared" to assume the presidency.
"The notion that he would attack a Gold Star family that made such extraordinary sacrifices on behalf of our country, the fact that he doesn't appear to have basic knowledge around critical issues in Europe, in the Middle East, in Asia, means that he's woefully unprepared to do this job," the president said.
Obama contrasted Trump with John McCain and Mitt Romney, the GOP's two previous presidential nominees. Despite their fierce policy disagreements, Obama said he never doubted their ability to carry out the duties of the nation's highest office.
_____________________________________________
Read more:
_____________________________________________
"I think I was right and Mitt Romney and John McCain were wrong on certain policy issues, but I never thought that they couldn't do the job," Obama said. "And had they won, I would have been disappointed, but I would have said to all Americans, 'This is our president.'"
Forcefully challenging Republicans who have stood by Trump's side, Obama suggested that Trump supporters like House Speaker Paul Ryan and Senate Majority Leader Mitch McConnell were placing party before country.
"There has to come a point at which you say 'enough,'" he said. "And the alternative is that the entire party, the Republican Party, effectively endorses and validates the positions that are being articulated by Mr. Trump."
In a statement Tuesday afternoon, Trump lashed out at Obama, saying he and Democratic nominee Hillary Clinton have "single-handedly destabilized the Middle East" and blasting the president as a "failed" leader, though he reserved much of his ire for Clinton.
The president's remarks came hours after Rep. Richard Hanna of New York became the first sitting GOP member of Congress to announce he would vote for Clinton in November.
1:26 p.m. Eastern: This story has been updated.