Skye Mockabee, Trans Woman in Cleveland, Found Dead in Parking Lot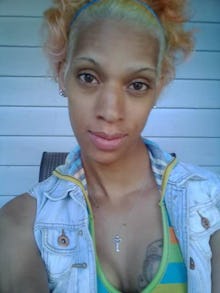 A black transgender woman named Skye Mockabee was found dead in a parking lot in Cleveland on Saturday morning, Cleveland.com reports. The owner of Ecclesiastic Granite Fab found Mockabee, 26, dead around 8 a.m. in his business's parking lot. She was lying face down next to a tow truck and bleeding from the mouth, according to police report. 
Mockabee was pronounced dead about a half hour later. Police and the Cuyahoga County medical examiner's office misgendered Mockabee, identifying her with her gender assigned at birth.
"Our hearts, minds and condolences are with Skye's family, friends, and community in this time of tragedy," Aaron Eckhardt, training and technical assistance director of the Buckeye Region Anti-Violence Organization, said in a press release. "All of us at BRAVO are saddened and outraged as our communities continue to be repeatedly targeted and we remain steadfast in providing services to the LGBTQI communities of Ohio."
Eckhardt added, "We must continue to come together as a broad community of support to say hate has no home in Ohio, hate has no home anywhere." 
According to a statement from the New York City Anti-Violence Project, Mockabee is the third transgender woman killed in July 2016 and the 16th transgender or gender nonconforming person to be killed so far in 2016. 
Mic previously reported on the killings of Washington, D.C.'s Deeniquia Dodds and Mississippi's Dee Wingham in July. Of the 24 reported hate violence homicides of LGBTQ people in 2015, 67% were transgender or gender nonconforming, according to the NYCAVP's annual report on hate violence. Thirteen of the 24 — 54% of those killed — were trans women of color.
According to an October report from Cleveland.com, the Cuyahoga County medical examiner's office ruled Mockabee's death a cocaine overdose. 
Jan. 4, 2017, 2:54 p.m.:  This story has been updated with new information on Mockabee's death. 
Read more: