One Statistic Illustrates the Grim Reality of Opioid Abuse — And It's Just the Beginning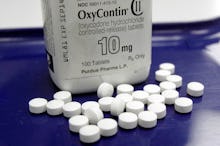 Opioids have become a deadly epidemic in the U.S. — and a new study begins to show just how dire the situation has become. According to a new paper by FAIR Health, there's been an over 3,000% increase in opioid dependency between 2007 and 2014 among the privately insured. 
To conduct their study, researchers pooled insurance records for some 150 million patients, tracking certain "diagnosis codes" that reflected opioid dependency — a condition marked by "by symptoms such as increased tolerance, withdrawal or unsuccessful attempts to quit," according to CNN.
The more than 3,000% increase is "a shocking figure," John Merrigan, register of the Franklin County Probate and Family Court in Massachusetts and co-chair and founder of the Opioid Task Force, said in a phone interview Tuesday. 
But the reality could be even more grim: "I don't even think that's the tip of the iceberg," he said.
But the widespread study offers only a narrow view into a much larger problem. That's evident in one of the paper's more striking takeaways: The medical records of millennials — people 19 to 35 — showed the highest incidence of opioid dependence.
But many millennials are uninsured, or shy away from visiting the doctor because of the hefty price tags. If the health care system is one in which young people play a small role, their outsized representation in the study could point to a staggering number of millennials nationwide who are hooked on opioids. 
Young adults between the ages of 18 and 25 are "the biggest abusers" of opioid pain relievers, according to the National Institute on Drug Abuse. But it's more than just painkillers; white millennials, in particular, also seem to be fueling the heroin epidemic.  
"Percocet," according to Merrigan, is "past tense. The problem is, we're seeing young people going straight to heroin. There's no gateway drug, there's no marijuana or cigarettes, they're going straight to heroin." 
Yet heroin use isn't something insurance records can necessarily speak to. The records can highlight repeat opioid refills and spotlight telltale habits, like frequent trips to the doctor and lab testing. But heroin isn't a drug doctors prescribe. 
The opioid crisis, on the whole, isn't confined within doctors' offices, Merrigan stressed. The drugs "penetrate the system at every level, whether it's the criminal justice system [or] whether it's the medical system." The paper explores one facet of a multi-faceted crisis from a single angle only — and it may leave a lot of people out in the process.  
Another troubling point: Behind the staggering statistics are real human casualties, Dr. Michael Smith, medical director and chief medical editor of WebMD, pointed out. Deaths from prescription painkiller overdoses increased 400% among women and 265% among men between 1999 and 2013, according to the Centers for Disease Control and Prevention.
"The more troubling point about all this is what underlies this 3,000% is all the costs and the hospitalizations and the illness and the deaths that are part of that 3,000%," Smith said. Opioid use in the U.S. has only recently garnered attention as an epidemic. The casualties, he suggested, will likely continue to mount while we play catch-up.
While the government has taken certain steps to reign in pain pill overprescription — like updating drug labels and passing legislation that helps authorities help people with addiction — it's fallen "behind the curve" by about three years when it comes to controlling the crisis, Merrigan said. And it's going to get worse before it begins to get better.
"We're still in the early stages of fighting this," Merrigan said, "so that 3,000% increase could be 6,000% in a couple years."
Read more: