Exploding iPhone Sends Australia Man Gareth Clear to the Hospital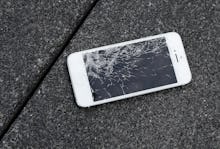 (Editor's note: This story contains disturbing images. View with discretion.)
Australian cyclist Gareth Clear was hospitalized when he says his iPhone exploded in his pants pocket after he fell off his bike on Sunday. He received a skin graft on his leg for his wounds. 
"My elbow and my knee and then my right butt cheek hit the floor, I guess simultaneously, and my phone was in my back pocket, screen in, metal case out," Clear told the Sydney Morning Herald. "Two or three seconds later I was dusting myself off and it was fine, and then I just saw smoke coming out of my back pocket." He felt a "surging pain" and a "searing heat," he told the Herald. "I heard kind of a snap... and I could see it melting through my shorts." 
Clear told the Herald he had "black discharge" on his leg and that "all this battery goo was coming out of the bottom of the phone." 
The iPhone was "new from Apple Store. No alterations or modifications," Clear said on Twitter. Clear contacted Apple after the accident, and Apple gave him "a very technical-driven response," he told 9 News. He says he doesn't hold a "grudge" against Apple but was surprised by the company's response.
Issues of exploding iPhones have come up before. A New York man was hospitalized after he said his iPhone exploded in his pocket in 2015. A man in Phoenix said it happened to him in 2014, causing second-degree burns. A 13-year-old girl was burned by her iPhone in 2013. 
iPhones contain the same batteries — lithium-ion — that are in hoverboards, drones and vapes. Lithium-ion batteries are often responsible for those items exploding as well. 
Read more: