Donald Trump Lashes Out at Mother of Crying Baby: "Get the Baby Out of Here!"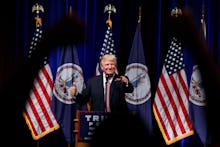 There's no crying in politics.
At least that's the message Donald Trump sent Tuesday when he told an audience member to remove their crying child from a rally in Virginia.
"Get the baby out of here," Trump said as the baby cried during his remarks about China devaluing its currency.
At first, Trump appeared fine with the blubbering kid, telling the baby's mother, "Don't worry about that baby, I love babies!"
"I hear that baby crying. I like it. What a baby! What a beautiful baby!" Trump said. "Don't worry about it. The mom's running around. Don't worry about it. It's young and beautiful and healthy, that's what we want."
_____________________________________________
Read more:
_____________________________________________
But after the crying continued, Trump said, "Actually, I was only kidding, you can get the baby out of here."
"That's all right. Don't worry," he continued. "I, I think she really believed me that I love having a baby crying while I'm speaking. That's OK. People don't understand. That's OK."
Twitter, unsurprisingly, went wild after Trump's outburst, comparing the Republican presidential nominee to a crying kid.
Read more: