7 Facts You Didn't Know About Rio Olympic Star Vashti Cunningham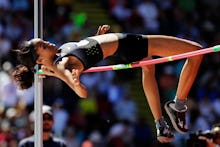 Being the daughter of a famous former sports star comes with a certain set of expectations. For 18-year-old Vashti Cunningham — a world-class athlete in her own right, and whose famous father is her coach — the pressure may be even higher.
Cunningham is the teen sensation who's been labeled the future of American high jumping. The Las Vegas native will compete in her first Olympics this week, where she has a good opportunity to medal for the U.S. in the high jump.
Here are some facts you might not have known about Rio Olympic star Vashti Cunningham.
1. She's the daughter of former football quarterback Randall Cunningham. The 53-year-old played 16 seasons in the NFL, mainly with the Philadelphia Eagles and the Minnesota Vikings, before retiring in 2011. Cunningham is his daughter's coach.
2. Cunningham is already a world champion and world record holder at just 18. At the U.S. Indoor Track & Field World Championships in Portland, Oregon in March, Cunningham jumped 6'6 1/4'' in the high jump, setting a new junior world record. A week later in the same place, Cunningham claimed her first professional title at the World Indoor Track & Field Championships. Those feats led Nike to sign her in the same month.
3. Her mother, Felicity, was a ballerina in the Dance Theatre of Harlem. It seems the high jump star gets her athletic talent from both parents.
4. Cunningham is a big fan of Tyler The Creator and his group Odd Future. With many retweets on her Twitter page, she seems to be entertained by the 25-year-old rapper's eccentric and nutty personality. 
5. She has an eclectic personal style. In an interview with track news magazine website Mile Split, Cunningham said she loves shopping at thrift stores.
"I just like to throw random stuff together," she said. "And it actually turns out looking pretty good. I like to thrift shop and change whatever I get, change the cuts or color. I got these jeans and I cut these huge holes in them. None of my jeans fit me, they're all cuffed at the bottom."
6. According to her father Randall, Cunningham is also a big "sneakerhead." "She will not admit to that," he said, according to Mile Split. "I was like, 'Where do you get shoes that light up like that?' She says, 'the internet.'"
7. Cunningham is a strong believer in God, just like her dad. Her Christian faith is what has helped her get through any adversity she has faced in her young career, including failing to record a height distance at her state's outdoor high school championships in 2015 — despite her being considerably better than her competition. It was the first time she had ever produced a "No Height" result.
"That was the first time I ever no heighted," she said of the experience, according to Mile Split. "I was just off, kinda. I don't really know. I don't think back to it a lot. I kind of just kept practicing, lifting and went and jumped and everything was back to normal."