Samsung Galaxy Note 7's Iris Scanner Might Be the Coolest Smartphone Feature Ever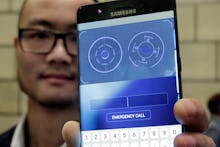 Samsung just announced its Galaxy Note 7, a phone that promises to be one of the best devices of the year — sorry, iPhone 7. The Note 7's release date is August 19, and preorders start tomorrow, August 3. We will detail the specs below, but the big feature everyone's talking about is the iris scanner. 
Forget easily imitable fingerprint scanning. Forget hacker-friendly passcodes. The security method of the future is the Galaxy Note 7's scanner, which detects the unique vein structure in your eyeball and unlocks your phone. It's a quick process that keeps your personal information far more secure. 
There are a few other big reasons smartphone power users will want to pick up the Note 7 over Apple's next phone, which reportedly drops a month later. It has a 12 megapixel camera with an f/1.7 lens, which means it has a wide aperture for great low-light photos. It's water-resistant. It has 4 GB RAM, a 64 GB hard drive and support for microSD cards. There's also a more powerful battery and the much stronger Gorilla Glass 5.
Why get this phone? Basically, if you're sick of broken screens, water damage, an easily drained battery and shitty indoor photos — all big problems with the current iPhone lineup — this phone is for you. And if you're a security-minded smartphone user eager for the next evolution in privacy, the iris scanner will soon become the new standard.
Read more: