In One Tweet, Samantha Bee Demolished Donald and Eric Trump's Advice to Harassment Victims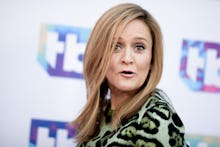 Samantha Bee, the queen of late night television, delivered an epic burn aimed at Republican presidential candidate Donald Trump and his son Eric, who recently claimed that his sister Ivanka could never be sexually harassed in the workplace because she is a strong woman who "wouldn't allow herself to be [subjected] to it."
"A strong cheetah would never allow itself to be subjected to getting shot," Bee tweeted, along with a photo of Eric and brother Donald Trump, Jr. posing with a dead cheetah.
Eric Trump's statement was intended to defend remarks made by his father, who was recently asked how he felt about the sexual harassment charges against former Fox News head Roger Ailes.  
"I would like to think she would find another career or find another company if that was the case," Trump told USA Today when asked how he would feel if his daughter Ivanka were harassed in the workplace. 
According to 2011 surveys sponsored by ABC News and the Washington Post, approximately 1 in 4 women have experienced sexual harassment in the workplace. Out of those who chose not to report it, 4 out of 10 said they avoided reporting it because they were scared of retaliation or didn't think "it would do any good."   
Bee's joke pointing out the absurdity of blaming a woman for getting raped — and the equal absurdity of blaming a cheetah for getting shot by a hunter — seems to have struck a chord with those angered by the Trumps' comments, garnering almost 2,000 retweets. 
The Trumps' comments have ignited such an outraged response that one can't help but wonder: Why haven't we heard anything about it from Ivanka, the woman who has built a career focused on empowering working women? Her silence is deafening.
Read more: