6 Facts About Hope Solo, US Olympic Goalkeeper With an Impressive and Controversial Past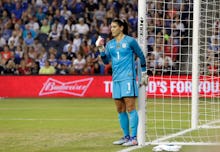 Hope Solo is undeniably one of the greatest goalkeepers women's soccer has ever seen. Yet, the 35-year-old still has plenty of critics, in large part because of problems off the field, but she is currently at the peak of her legendary career, having collected two Olympic gold medals and a World Cup gold medal over the years. This year, a following a world champion title last summer at the FIFA Women's World Cup in Canada, Solo and the rest of the U.S. Women's National Team could become the first team to ever win the World Cup and at the Olympics back-to-back.
Solo has certainly become an intimidating force among the most elite forwards in women's soccer due to her clear athletic ability and her brash attitude. Although she benefitted last summer from quite possibly the best U.S. defensive backline the team has ever had in a major tournament, Solo was fundamental in helping the U.S. women's team win their first World Cup title in 16 years. A record fourth Olympic gold medal for Solo would further add to her remarkable legacy.
Here are six facts about U.S. Olympic goalkeeper Hope Solo: 
1. Solo holds many U.S. goalkeeping records. She is first in appearances, starts, wins, wins in a single calendar year, consecutive minutes played, longest undefeated streak and shutouts, getting her 100th shutout vs. South Africa on July 9.
2. Solo participated on ABC's Dancing with the Stars in 2011. Her time on DWTS was marred by allegations of abuse. After finishing in the semifinals with Maksim Chmerkovskiy, Solo wrote in her 2012 book that her dance partner was physically abusive to her and slapped her in the face. Chmerkovskiy vehemently denied those allegations and called Solo last year a "shitty person."
3. Solo is still dealing with her June 2014 alleged domestic violence case against her sister and nephew in Seattle, Washington. She was denied a request for the charges to be dropped two months ago, resulting in the case going to trial pending a possible appeal by Solo to the state's Supreme Court.
4. Solo is married to former NFL player in Jerramy Stevens. The couple wed in 2012, but Stevens has also had his share of legal issues, including allegations of domestic violence himself for an alleged assault against Solo in 2012. Solo and Stevens married one day after he was arrested for alleged domestic violence. 
5. Solo is a rep for Billie Jean King's Women's Sports Foundation. It states on the foundation's page that the organization is "dedicated to creating leaders by ensuring all girls access to sports."
6. In 2011, Solo appeared nude in The Body Issue of ESPN The Magazine. That positive image of Hope was overshadowed a few years later when nude images of Solo were leaked as part of a wider hack of celebrity iCloud accounts.
Read more: