4 Facts You Didn't Know About Rio Olympic Star Sydney McLaughlin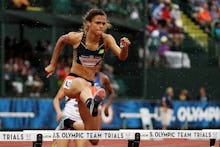 Vashti Cunningham isn't the only teen sensation on the U.S. Olympic Track and Field team competing in Rio de Janeiro. Sydney McLaughlin, 16, took the Olympic track trials by storm with an unexpected showing in the 400 meter hurdles — arguably the sport's toughest individual event. 
Here's four things you should know about McLaughlin, the youngest member of the U.S. Olympic Track and Field team:
It runs in the family: Both of McLaughlin's parents were former runners, setting the stage for her to be the sensation she has become. Her father, Willie, qualified for the 400 meter semifinals in the 1984 U.S. trials but failed to qualify for any Olympics; her mother, Mary, also participated in the sport.
Sydney's brother Taylor is also a runner, and an elite talent as well. Two weeks ago, Taylor McLaughlin won silver at the Under 20 Track and Field World Championships in Poland in the 400 meter hurdles.
She's won prestigious awards: Sydney won the 2015-16 Gatorade National Girls Athlete of the Year award from Allyson Felix while almost running into the 200-400 meter star. 
"I thought Allyson was just some girl on the track that I was about to run into, then I realized who she was," she said to USA Today High School Sports. "I have no words for this. I was just happy to win the state award for a second time and earn another banner for my school. I never even thought about winning this. It's unreal."  
She's broken records: A major reason Sydney received that Athlete of the Year award was her record-setting performances, breaking national prep and junior records in the 400 meter hurdles. She broke accomplished veteran Lashinda Demus' junior record, as well as Leslie Maxie's 32-year-old world youth and national high school record at the New Balance outdoor high school national championships this past spring.
She has a special skill: Sydney has a unique skill besides being incredibly fast — she's an incredible juggler. 
"I can really juggle while riding a unicycle, so there's always the circus!" she told USA Today High School Sports. "Not a bad fallback plan, aye."