8 Most Important Things to Know About Rio Olympics 2016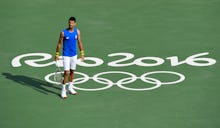 The Rio Olympics are upon us and the storylines abound: Like, Usain Bolt's Olympic legacy, Brazil's ongoing water pollution problem, the exorbitant cost of hosting the games and the displays of patriotism. But here are some facts people may not already know about the 31st Olympiad:
1. Rio will feature two sports unfamiliar to modern Olympics viewers.
This year's Olympics features 28 sports in the program, including the return of two from yesteryear: Golf is included for just the third time ever and for the first time since 1904 in St. Louis, while rugby sevens is also included. Rugby hasn't been seen at the Olympics since the 1924 Games in Paris.
2. This year's Games feature a record number of participating countries.
A record 206 nations will compete in Rio, according to BBC, including two first-time participants. Kosovo was formed 24 years ago but will be taking part for the first time, while South Sudan, which gained independence in 2011, will also be present.
3. South America is the fifth continent to host the Olympics — and Brazil is the first South American country to do so. 
This marks the first time we've ever seen the Olympics in a South American country. The Olympics have previously taken place in Europe, North America, Asia, and Australia.
4. This year, refugees have their own team. 
Ten athletes will compete for the first ever Refugee Olympic Team (ROT), a gesture that aims to draw attention to the world's refugee crisis. They hail from Syria, South Sudan, Ethiopia and the Democratic Republic of the Congo.
5. The games feature triplet marathon runners.
Believed to be the first triplet Olympians ever, according to the New York Times, Leila, Lily and Lilna Luik will represent Estonia in the women's marathon Aug. 14.
6. Some 460,000 pounds of raw ingredients a day will feed the Olympic athletes. 
The Rio Games will feature a staff of 90,000 and a worldwide media contingent of 20,000. Meanwhile, Olympic athletes will be served 60,000 meals per day from 460,000 pounds of raw ingredients.
7. The U.S. is fully-privately funded, unlike other countries' teams. 
The United States is one of only a few countries in the world that doesn't fund its Olympic team with government money. The nation's olympic committee instead uses private funds, many from large sponsorships and licenses, to back the team.
8. Passing the torch
Around 12,000 torchbearers will travel some 20,000 km by land and 10,000 miles by air as they transport the Olympic torch from Olympia to Rio.
Read more: