6 Facts You Didn't Know About Rio Olympic Athlete Allyson Felix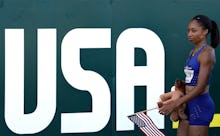 American track star Allyson Felix was just 18 years old when she made her Olympic debut in Athens in 2004. As she readies for the 2016 Olympics in Rio de Janeiro, she'll take on the track as a veteran, ready to sprint her fastest for her fourth time at the games.
Take a moment to learn more about one of the United States' top athletes in Rio.
1. She has a chance to make history.
Felix will not only be looking to win a medal for her fourth games, she can become "the most decorated U.S. track and field female Olympian of all-time," Sports Illustrated reported. Her six medals right now tie her for that record with Jackie Joyner-Kersee. She could also tie Jamaica's Merlene Ottey's all-time women's career record of nine medals, according to SI.
2. She dealt with an injury during the U.S. Olympic Track and Field Trials.
Despite nursing an ankle injury during the U.S. Olympic Trials in Eugene, Oregon, Felix still won the 400-meter race with a time of 49.68, which is the world's fastest in the event this year, SI reported. Her personal-best mark in the event is 49.26, recorded at the 2015 International Association of Athletics Federations World Championships in Beijing.
3. She missed out on a potential double-double bid.
Felix placed fourth in the 200-meter at the U.S. Olympic Trials, failing to qualify for the event. She had won one gold medal and two silvers in the event at the last three Summer Games. Michael Johnson and Valerie Brisco-Hooks are the only two Americans to qualify for both the 200-meter and 400-meter in the same Olympics, espnW reported.
4. Business stays in the family.
Felix's agent is her older brother, Wes. Wes Felix was also a sprinter, winning the Pac-10 Championship in the 200-meter in 2003 and 2004.
5. She once had a surprising nickname.
Believe it or not, Felix was called "chicken legs" in high school, according to a 2012 Competitor profile of the athlete — but those legs would eventually help power her to three Olympic gold medals.
6. She hasn't confirmed this will be her last Olympics.
While Felix's already lengthy career would seem to suggest this will be her final go-around, she hasn't ruled out another Olympic run. "This could be it or not," she told espnW. "I'm just taking everything year-by-year."