Rio Olympics Soccer: 7 Facts about Neymar, Brazil's Biggest Star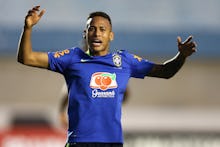 Despite being widely considered the gold standard among international football (a.k.a soccer in the U.S.) teams, with five World Cup crowns, Brazil has never tasted Olympic gold. Given that this is the first time the Canarinho, as the Brazilian national team is commonly known, will take the Olympic pitch on their home turf, the pressure to finally win gold is at an all-time high, and much of it figures to fall on team captain and tournament best player Neymar da Silva Santos Júnior, known by his fans simply as Neymar. 
Here are seven facts about Neymar you need to know: 
1. He's not just Brazil's most famous athlete.
He's also one of the best-known athletes worldwide. ESPN ranked him fourth in its World Fame 100 list, trailing only Cristiano Ronaldo, LeBron James and club teammate Lionel Messi. At 24 years old, Neymar is the youngest among those top four athletes. 
2. He is club teammates with two other world's best soccer players.
Neymar plays for FC Barcelona, one of the world's most formidable soccer clubs in Spain's La Liga. He partners alongside Luis Suarez and Messi — their nickname together is MSN. Last season, they scored 150 goals combined in all competitions. 
3. He's polarizing among former Brazilian footballers. 
The country's all-time goal leader Edson Arantes do Nascimento, known as Pelé, has been critical of Neymar in the past, while fellow Brazil legend Rivaldo Vítor Borba Ferreira, or Rivaldo, for short, recently said he's on track to becoming the world's best player, as reported by Sky Sports.
4. He tied for the bronze boot at the World Cup.
Neymar's four goals at the 2014 World Cup in Brazil tied him with Messi and Robin van Persie of the Netherlands. However, Neymar famously did not play in the 2014 World Cup semi-finals, which resulted in a crushing loss to eventual World Cup champions, Germany.
5. He's the first soccer player to work with the Jordan brand.
During the Olympics in Rio, Neymar will wear a new custom Jordan cleat designed specifically for him, as reported in June by Sports Illustrated. He's still under contract with Nike through 2022 thanks to an 11-year endorsement deal inked back in 2011.
6. He was the first Brazilian football player featured on the cover of Time.
Neymar graced a March 2013 cover of Time for this story, roughly a year ahead of his country hosting the last World Cup.
7. He survived a serious car wreck as an infant. 
Neymar was four months old when his parents' car collided with another oncoming vehicle in the pouring rain. His father was seriously injured, while little Neymar escaped with a forehead wound from a shard of glass.
Read more: