Patton Oswalt Shared a Powerful Facebook Post About Grief After His Wife's Death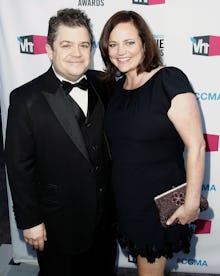 Actor and comedian Patton Oswalt opened up about his grief after the death of his wife, Michelle McNamara, in a Facebook post on Monday — and the result was honest, raw and heartbreaking.
McNamara, a true crime writer, died suddenly in her sleep in April. On Monday, 102 days after her death, Oswalt posted this letter, framed, at first, as an ironic thank-you note to his grief.
Thanks, grief. Thanks for making depression look like the buzzing little bully it always was. Depression is the tallest kid in the fourth grade, dinging rubber bands off the back of your head and feeling safe on the playground, knowing that no teacher is coming to help you.
Oswalt talked about the "fear, exhaustion ... randomness and horror" of grief — but also about the powerful outpouring of love and support he and his 7-year-old daughter, Alice, have experienced after McNamara's death.
"You will have been shown new levels of humanity and grace and intelligence by your family and friends," Oswalt wrote. "They will show up for you, physically and emotionally, in ways which make you take careful note, and say to yourself, 'Make sure to try to do that for someone else someday.'"
McNamara's death left him "face-down and frozen for weeks," Oswalt said — but he also revealed he has been working to finish the book that McNamara was working on when she died, about the Golden State Killer.
"Any spare energy I've managed to summon since April 21st I've put toward finishing Michelle's book," Oswalt said. "With a lot of help from some very amazing people. It will come out."
The letter has already been shared more than 20,000 times. Read the entire thing here:
Read more: