The Best iPhone 7 Videos That Reveal the Big Features of Apple's September Release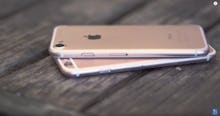 With the iPhone 7 release date coming up — reportedly, September 16 — everyone's wondering when they can order it (September 9!), if there's an iPhone 7 Pro with a dual-lens camera (we'll see!), if the iPhone 7 will have a headphone jack (likely not) and what iPhone 7 features are going to make an upgrade worthwhile.
Oh yeah — and what the damn thing looks like. 
Apple hasn't released any promo videos for the iPhone 7, but in China, where iPhones are built, manufacturers produce nonworking clone models of the new devices. According to BGR, photos of the dummy phones often end up on social networks like Weibo. Other times they'll get shipped to tech bloggers in America — and that's when we get videos like this, courtesy of gadget blog TechnoBuffalo. 
Ahhh. This is probably the best view of the iPhone 7 we will get before the phone's actual release. Feast your eyes on the larger camera, the modified shape of the plastic antenna bands, the lack of a headphone jack (ugh), the... OK, that's about it. This phone really doesn't look that different. 
Here's another view: an unboxing video featuring some lovely closeups of an iPhone 7 clone, brought to you by vlogger Jonathan Morrison.
There it is. Very nice. OK, now let's talk about the sad headphone situation. We've also seen a bunch of videos showing how headphones will attach to a phone without a jack. In this leaked video from EverythingApplesPro that purportedly shows new iPhone 7 accessories, someone plugs a pair of earbuds into an iPhone 7 clone — only instead of a headphone jack, the headphones use the Lightning connector.
"If the iPhone 7 doesn't have a headphone jack, people will have to use an adapter for the headphones they have, buy wireless headphones or buy headphones with a Lightning cord," Mic tech editor Alexis Kleinman explained last week. "It's not a change that people are excited about."
Case in point: another video showing an iPhone 7 headphone adapter. It reportedly connects a 3.5mm headphone cable to the Lightning port.
Anyone want to do an over/under on how much this adapter costs? I'm gonna guess $30.
There are too many iPhone 7 rumors floating around the web to count. For a full roundup, check out Gizmodo's exhaustive feature. But we have a great idea of what the new phone looks like, and if it's not enough of an upgrade for you to ditch your iPhone 6, no one could blame you. There's always the rumored iPhone 8 in 2017.
Read more: