Will the Next Bachelor Be Robby Hayes, Chase McNary or Luke Pell? Here's the Case for Each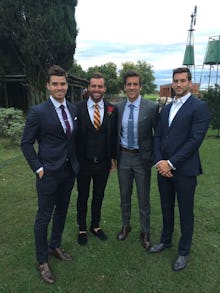 The latest season of The Bachelorette wrapped-up with star JoJo Fletcher breaking Robby Hayes' heart and getting engaged to floppy haired, former pro-football player Jordan Rodgers. Now that those loose ends are all tied up and the happy couple has gone public, it's time to turn to the upcoming season of The Bachelor, which will likely air in early 2017. 
The next star of the show hasn't yet been announced, but, if the latest season follows the franchise's tradition of picking a contestant from a previous season to fill the next starring role, it stands to reason that three of the most recent finalists, Robby Hayes, Chase McNary and Luke Pell, each have a decent shot at the job. Here's why it might — or might not — be each of them.
Chase:
Why it could be him: Chase started off a little wooden, but he had some major emotional breakthroughs this season. When JoJo visited with his family in Colorado, Chase opened up about the trauma of his parents' divorce and how hard it is for him to love. Also a single tear rolled down his face, which is reality television gold. He was truly heartbroken when JoJo ended things right after he told her he loved her — so it could be fun to watch women compete to be the ones to heal his wounded soul.
Why it wouldn't be him: Chase is honestly kind of boring. He might not have the charisma and charm to carry him through an entire season of talking to the camera.
Robby:
Why it could be him: Robby is a hottie with a body. His job was listed as "former competitive swimmer," so, while we have no idea what he does for work on a day-to-day basis, it's clear he's in great physical shape. He was the runner-up, which was the case for JoJo before she was tapped as the next bachelorette, so historically the odds are in his favor.
Why it wouldn't be him: Robby's past is a little murky. During his hometown visit, he told JoJo about his rocky history with an ex-girlfriend and her attempts to slander his good name. That kind of drama doesn't jibe with the squeaky-clean, Prince Charming image that the bachelor usually has to maintain (we're looking at you, Ben Higgins).
Luke:
Why it could be him: On paper, Luke seems like the obvious choice. He's a military vet (heroism!), a real life cowboy who loves horses (swoon!) and he sure knows how to sweet-talk a lady (romance!). He's sort of being set up as the next bachelor — on the "Men Tell All" special he told host Chris Harrison that he was totally ready for love, which is franchise-speak for "cast me."
Why it wouldn't be him: Luke never smiles. He has the cold, dead eyes of a Victorian doll and he has no discernible sense of humor. Could we watch him for a whole season? Ehhhh.
The reality is we won't know for a little while who the next bachelor will be. Odds are it's one of these three, but it could just as easily be none of them. Maybe they'll pick someone from a different season, or pluck a hot rando from obscurity. The point is, we'll still watch no matter what. 
Read more: