5 Facts About Olympic Star Megan Rapinoe You Probably Didn't Know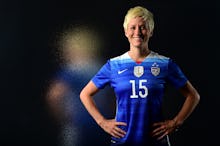 One of the big names playing for the United States in the 2016 Rio Olympics is U.S. Women's soccer player Megan Rapinoe. A veteran of the U.S. team since 2006, Rapinoe is one of the leaders of a squad that has accumulated two Olympic Gold Medals, in 2008 and 2012; one Women's World Cup championship (2015) and numerous other accolades during her time with the national team.
While much of her on-field achievements are known, there is much about Megan Rapinoe that many do not know. For instance, did you know Rapinoe is engaged? Or that her face has been featured in a very odd place? 
Here are five facts about Olympic gold medalist Megan Rapinoe that many people may not know about her. 
1. Megan and her twin sister Rachael attended the University of Portland where they helped the Pilots win the 2005 NCAA Championship. Megan was an All-American as a freshman after she scored 15 goals in 25 games, including seven game-winning goals.
2. Rapinoe has had three different ACL injuries in her soccer career, including two separate instances during her college soccer career. The latest knee injury occurred during the USA Women's Victory Tour after their World Cup victory in December 2015. Even after the latest ACL injury, Rapinoe was named to the final US Olympic roster last month, where she will be playing in her second Olympic Games (her first was 2012 in London).
3. When she's not playing for Team USA, Rapinoe is a member of Seattle Reign FC of the National Women's Soccer League. Rapinoe, along with her Team USA teammate goaltender Hope Solo, led the Reign to the league's best record in the 2015 season and a berth in the NWSL Final.
4. Rapinoe is currently engaged to singer-songwriter Sera Cahoone, who is signed to the famous record label Sub Pop Records, the home for bands like Nirvana, Soundgarden and many others. Cahoon has released three albums and some may also know her as drummer for the group Band of Horses in 2005.
5. Rapinoe's face was featured in a corn maze. Hawes Farm in Anderson, California, after the U.S. team won the Women's World Cup last fall, decided to put together a tribute to Rapinoe in their corn field that featured Rapinoe heading a soccer ball. "I saw my face in the Hawes Farm corn maze. It was so amazing," Rapinoe said in a cell phone video obtained by KRCR News. "What an honor, that's something that's so unique and so cool."
Read more: