Gunmen Just Opened Fire in a Market in Assam, India, Killing At Least 13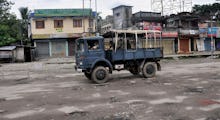 In a busy Kokrajhar market in Assam, northeast India, a group of gunmen in military uniforms opened fire and threw hand grenades, killing at least 13 and injuring many more on Friday. The reported numbers of those wounded are conflicting — ranging from 15 to dozens — but, according to Al Jazeera, at least 20 are in critical condition with the death toll expected to rise.
The assailants and security forces engaged in gunfire for 20 minutes, the Times of India reports.
One of the gunmen was killed by law enforcement while three or four more absconded to a nearby forest and are still being pursued, Assam police chief Mukesh Sahay said, according to Reuters.
Sahay speculated the gunmen were members of the National Democratic Front of Bodoland, a proscribed separatist group, which has violently sought an independent state for the Bodo tribe and which accounts for around 10% of the Assamese population.
"I saw one gunman dressed in [a] black raincoat-like gown and another two were sitting in an autorickshaw," Santosh Narzary, a market trader who survived the attack, told Times of India. "He wasn't firing indiscriminately, but targeting people and taking one shot at a time."
Assam has a long history of spasmodic violence, resulting in thousands of deaths and displacing tens of thousands more. Tensions between the indigenous population and migrants — primarily Muslims from Bengal — abound. An NDFB attack, therefore, would be par for the course.
Read more: