President Obama and Donald Trump Team Up to Put Paul Ryan in an Impossible Position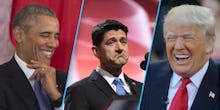 It's an observation so axiomatic as to be all but redundant: President Barack Obama and Republican presidential nominee Donald Trump are men at cross-purposes.
The president's legacy hinges on the election of Trump's opponent, Democratic nominee Hillary Clinton. Trump, for his part, looks upon the Obama years as a disaster, proclaiming on Tuesday that Obama "will go down as perhaps the worst president" ever.
But the two men found themselves teaming up on Tuesday to make life hell for a common adversary: House Speaker Paul Ryan, the country's highest-ranking elected Republican and a pillar of the budget-slashing brand of conservatism loathed by both the progressive left and the populist right.
Though Ryan has broken with his party's standard-bearer on immigration, trade, Trump's proposed Muslim ban and the GOP nominee's assault on a Hispanic federal judge, he has grudgingly supported Trump's campaign since endorsing him in June. It was Ryan who presided over the Republican National Convention in Cleveland, where Trump was formally nominated, and who has refused to retract his endorsement even after pushing back against Trump's attacks on the parents of a Muslim American soldier killed in Iraq.
_____________________________________________
Read more:
_____________________________________________
Speaking at a White House press conference Tuesday, Obama forcefully challenged Republicans like Ryan, suggesting that standing by the real estate tycoon would permanently mar their political brand.
"There has to come a point at which you say 'enough,'" Obama said. "And the alternative is that the entire party, the Republican Party, effectively endorses and validates the positions that are being articulated by Mr. Trump."
On the one hand, Ryan would seem to have ample incentive to renounce his support for Trump. With his poll numbers plunging and unlikely to improve amid his latest Khan-troversy, a Trump victory looks like a long shot as the general election campaign gets underway; even Trump himself is steeling for a loss, asserting Monday that the election may be "rigged" in favor of Clinton. Hitching oneself to that wagon is hardly an attractive prospect. And should Ryan mount a presidential bid of his own in 2020, he's likely to make the case that the more inclusive conservative message he espouses would have saved the party from a Clinton presidency.
But in light of Obama's remarks, retracting his endorsement would mark capitulation to a widely reviled figure on the right — something Ryan can't afford ahead of his Aug. 9 primary election against conservative challenger Paul Nehlen. Ever the savvy political operator — and eager to cast the GOP as the party of Trump — Obama likely knew exactly what he was doing on Tuesday, to paraphrase Marco Rubio.
There's a twist: After Ryan issued a statement Sunday repudiating Trump's attacks on the parents of Humayun Khan, Trump pointedly took to Twitter to thank Nehlen, who blasted Ryan for his "knee-jerk" criticism of Trump.
Twisting the knife further, Trump told the Washington Post Tuesday that he's not ready to lend his support to Ryan in next week's primary, saying "I'm just not quite there yet" — echoing Ryan's public hesitation to endorse Trump in May, when the speaker said he wasn't "there right now."
"I like Paul, but these are horrible times for our country," Trump told the Post. "We need very strong leadership. We need very, very strong leadership. And I'm just not quite there yet. I'm not quite there yet."
In response, Ryan's team said he'd never sought Trump's endorsement, and remained "confident in a victory next week."
Spin aside, Ryan confronts a vexing choice.
He can seize this opportunity to disavow a nominee who many fear will lead his party to electoral armageddon. But he'd risk charges of surrender to Obama and the liberal establishment. It would also strike many observers as petty: Coming on the heels of Trump's refusal to endorse him, an unendorsement would inevitably be cast as self-interested.
Or Ryan can stand by a nominee who won't even commit to backing his renomination — and look like he's been cowed into submission by the almighty Trump.
You could say he's between Barack and a hard place.
Aug. 2, 2016, 6:16 p.m. Eastern: This story has been updated.
Correction: Aug. 2, 2016