11 important hacks every peanut butter lover needs to know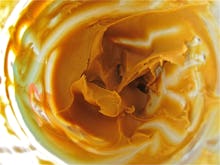 Crunchy or creamy, peanut butter hits all the right salty and sweet flavor notes to create delicious party in your mouth.  
Plus, it does a body good. Peanuts are one of the most nutrient-dense foods on the planet and packed with protein. And peanut butter happens to be quite versatile: You can add the spreadable joy to baked goods, noodle dishes, salad dressings, sandwiches (duh), or just eat it by the spoonful straight from the jar. 
But even the most devout peanut butter worshipper could stand to level up their PB game when it comes to jelly's partner in crime. We're here to teach you old dogs some new tricks. 
11 Peanut Butter Hacks You Absolutely Must Try
1. Store that jar of natural peanut butter upside down. 
It helps you avoid the oil separating from the rest of the PB. 
2. Spray cooking utensils, like measuring cups, with cooking spray before you measure out peanut butter for recipes. 
This'll help more of the peanut butter come out from the vessel, and clean up will be easier, too. 
_____________________________________________
Read more: 
3. Don't throw out an almost-finished jar. Use it to make breakfast instead. 
No precious drop of peanut butter should go to waste. Plus, the peanut butter will soften and become more scrape-able come morning. Get a sumptuous peanut butter jar overnight oats recipe here. 
4. Or, make a delicious salad dressing from an almost-finished jar. 
Homemade dressing trumps store bought, and it's ridiculously easy to concoct. Find a ginger-garlic dressing recipe here, which uses the jar as a container — one less thing to clean!
5. Make hot cocoa in an almost-depleted tub of peanut butter.
You can use this trick with Nutella leftovers, too. Nom. Get the recipe here. 
6. Add peanut butter to ramen for a Thai-inspired dish. 
Elevate a standard cup of noodles. Sriracha adds a spicy kick, too. Get the recipe here. 
7. Drizzle peanut butter on popcorn for some extra protein and healthy fats. 
See ya, caramel corn. Adding PB and honey to popcorn is a movie night game changer for your taste buds — and it's way healthier because it has no added sugar. Just note: Honey and peanut butter naturally have sugar. Get the recipe here. 
8. Spread peanut butter on Oreos just because. 
Chocolate + peanut butter = everything. Plus, this combo is Parent Trap-approved.
9. Put it in Greek yogurt to make a creamy, cookie dough-flavored snack. 
Way healthier than raw cookie dough, which isn't always safe to eat. Get the recipe here. 
10. Spread peanut butter on banana slices and freeze them to make mini sandwiches. 
Frozen bananas taste slightly creamy. Consider these a healthy alternative to ice cream sandwiches — or dip the sandwiches in melted chocolate for a more indulgent treat. Get the recipe here. 
11. Cradle jelly, or any sandwich filling, with the strength that is peanut butter.
That's how it's done.