Delaware Death Penalty Ruled Unconstitutional By State Supreme Court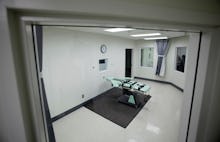 The State Supreme Court of Delaware struck down the state's death penalty laws on Tuesday, ruling that sentencing convicts to the ultimate punishment is unconstitutional.
According to the Atlantic, the court decided standing Delware laws on the death penalty — which gave judges, not juries, the power to sentence people to death — was a violation of the Sixth Amendment rather than the more common objection to the death penalty based on the Eighth Amendment's prohibition on "cruel and unusual punishment." Whether the death penalty in Delaware continues now depends on whether the state General Assembly amends statutes to give death penalty power to juries, reported the News Journal. The paper reported such a legislative fix seems "tough," since the state Senate narrowly passed a bill to abolish the death penalty altogether earlier this year.
Per the Atlantic, the distinguishing factor this year was a January U.S. Supreme Court ruling in Hurst v. Florida which ruled unconstitutional a Florida law giving juries only the right to issue an "advisory" sentence, after which judges were free to assign the death penalty or not. Florida is now in a court battle to retain its revised version of the law, reported the New York Times. Alabama, the third state to delegate death penalty decisions to judges, saw a string of cases remanded back to state courts as of early June, though its law remains in effect.
If the state legislature does not amend the law to resume executions in Delware, the state will join the 19 states with prohibitions on death sentences.
However, ending the death penalty in the state may have a minimal impact on the number of people put to death. According to the Delaware Department of Correction's website, just six people have been executed in the state since the turn of the century.
Read more: