Yet Another Top Republican Disavows Donald Trump, Pledges to Vote for Hillary Clinton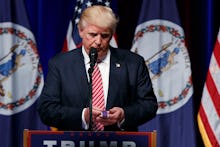 Hillary Clinton added yet another big name to the list of prominent Republican supporters on Tuesday when Hewlett Packard CEO Meg Whitman announced she will back Clinton over Donald Trump, whom she called "reckless," a "demagogue" and a threat to democracy.
Whitman, who was the Republican nominee for governor of California in 2010 and has raised millions for the presidential campaigns of Mitt Romney and New Jersey Gov. Chris Christie, says Trump has an "authoritarian character" and that his "unsteady hand would endanger our prosperity and national security."
The New York Times first reported Whitman's endorsement.
She even went as far as saying she will raise money for Clinton, whose values she said "make her the far better choice in 2016 for President of the United States."
"In a tumultuous world, America needs the kind of stable and aspirational leadership Secretary Clinton can provide," Whitman wrote in a Facebook post. "I urge all Republicans to reject Donald Trump this November."
Whitman is the fourth high-profile Republican this week to close the door on voting for Trump and instead back Clinton. That number is no small feat in today's polarized political climate.
_____________________________________________
Read more:
_____________________________________________
On Tuesday, sitting Rep. Richard Hanna of New York announced he will vote for Clinton in November. So did Maria Comella, a former top aide to Christie who worked on Sen. John McCain's 2008 presidential campaign.
On Monday, Sally Bradshaw, a longtime supporter of the Bush family and senior adviser to Jeb Bush's 2016 presidential campaign, announced she was leaving the Republican Party altogether, and would vote for Clinton in her home state of Florida if polling showed the race was close.
This steady trickle of Republicans publicly announcing support for Clinton comes as Trump picked a fight with the family of a fallen Muslim soldier, delivered a series of head-scratching answers on U.S.-Russian relations and joked about having always wanting to receive a Purple Heart — a medal awarded to soldiers killed or badly injured in service.
Polling taken after the Democratic National Convention wrapped, but before these gaffes hit their peak, shows Clinton once again with a solid lead over Trump.