'Suicide Squad' Is Getting Bad Reviews — Naturally, Fans Want to Shut Down Rotten Tomatoes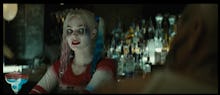 DC Comics appears to have struck out again, with overwhelmingly negative reviews of its upcoming antihero film, Suicide Squad. But some fans aren't going to let the negative reviews stop them from seeing the film; in fact, they just want to stop the reviews themselves.
One enterprising fan has created a Change.org petition to shut down Rotten Tomatoes — the website that aggregates reviews and gives them a percentage score out of 100. (As of writing, Suicide Squad is at a "rotten" 33%.) The fan who made the petition posits that the site puts out negative critical scores for DC films, citing Suicide Squad and the similarly panned Batman v. Superman: Dawn of Justice as examples of this. Therefore, it "affects people's opinion even if it's a really great [movie]." 
The petition has reached over 11,000 signatures (with a goal of 15,000), and is still steadily climbing. It's worth noting that Rotten Tomatoes only aggregates reviews, it doesn't write them. Yet it draws the ire of DC fans. Remarkably, Rotten Tomatoes was actually owned by Warner Bros. Entertainment up until February, when it was sold to Fandango. Warner Bros. is distributing Suicide Squad.
Clearly, the petition isn't going to change the fact that Suicide Squad has been poorly received by critics. But if it still upsets DC fans, instead of suggesting the reviews are unjust, perhaps they should take a page out of Suicide Squad director David Ayer's book: tweeting quotes from Mexican revolutionaries as a means to shake off the criticism. 
Suicide Squad hits theaters Friday. 
Read more: