Aerie Continues Its Body Positive Mission With Its New 'Share Your Spark' Campaign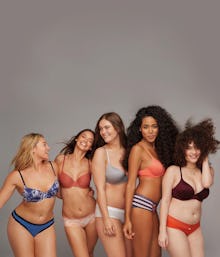 For nearly two years now, Aerie, American Eagle's loungewear offshoot, has consistently been taking the body positivity movement up a notch. It's stopped digitally altering its models. It's been committed to casting models of various different sizes, shapes and races. And in return, business is way, way up. 
So given that Aerie knows what works on its customers, of course its latest campaign, which launches today, is body positive as hell. 
"Share Your Spark," which launched in conjunction with Aerie's new line of "Sunnie" bras and underwear, shows 40 different women (some of whom are models and some of whom are not) dancing around in comfortable-looking cotton undergarments while sharing their own words of advice for accepting and celebrating your body. 
In one video from the campaign, model Barbie Ferreira, a curve model who's starred in Aerie ads before, shimmies in a pale pink bra and underwear set and says, "When I was younger I never had representation of people that I truly could relate to. I don't apologize for anything, including my body, including anything that I'm proud of." 
"Half of the girls had never even been on a photo shoot," the video's narrator, plus-size model and body positive activist Iskra Lawrence, says. "And yet all these women proudly bared their real selves to share share their spark with girls everywhere." 
Included in this group of women is an Aerie underwear designer, who says, "The most important thing is just to not let people define who you are." 
"Even if you don't see yourself in media, it doesn't mean that you don't have a spark of your own," says Shivani Persad, another Aerie model. 
"Don't worry about fitting in. Standing out is way more fun," says Yecca Zeng, an Aerie bra designer. 
"It's not about flaws or curves, it's what's beneath the skin," Lawrence insists at the conclusion of the video. "Our real truths. Our real selves. Our real beauty." 
With the exception of one hiccup in the form of a fake body positivity video on April Fool's Day, Aerie has succeeded in bringing more realistic depictions of people into advertising. As with all of their campaigns since 2014, this video did not alter the appearance of any of the women. And in a day and age when the altering of models and female celebrities runs rampant (from Kerry Washington to Ashley Graham), that still matters. 
You can watch Aerie's new campaign here: 
Read more: