This 4-Year-Old Crying Over the End of Barack Obama's Presidency Is a Tantrum of Truth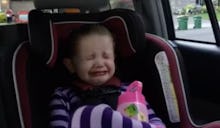 Babies put off by Donald Trump (some literally) doubtless feel this little girl's pain. Overhearing her mother listen to speeches from the Democratic National Convention, 4-year-old Abella Tomlin was forced to come to terms with the fact that President Barack Obama would soon be leaving office — and Abella promptly burst into tears. 
"Why are you so sad?" her mom, Andrea Tomlin, asks her on video, which she posted to Facebook on July 26. 
"Because I miss Barack Obama," Abella responds, bereft. 
Her mom reminds her that a new president would follow Obama, and asks her if she thinks Hillary Clinton would do a good job. "I think so," Abella says, still crying. When asked to say goodbye to Obama on camera, Abella dissolves into sobs. 
Tiny Obama superfans seem to be coming out of the woodwork as the president's term wraps up. In February, the cries of another mournful little girl were heard by POTUS himself, and she was promptly invited to the White House to say her piece. 
Indeed, Democrats of all ages would be inclined to say same. 
Read more: