A Mississippi Police Chief Added "All Lives Matter" Bumper Stickers to Squad Cars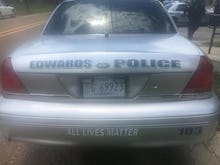 Following last month's fatal shootings of Alton Sterling and Philando Castile and the shootings of Baton Rouge and Dallas police officers shortly after, Edwards, Mississippi, Police Chief Torrence Mayfield wanted to make a statement to unite his community.
Using their own money, Mayfield and town mayor Marcus Wallace outfitted Edwards Police squad cars with "All Lives Matter" bumper stickers, in what they saw as a gesture of good will.
"It should not just be 'Black Lives Matter' or 'Blue Lives Matter,'" Mayfield told Mississippi News Now. "But Hispanic, Muslim, Jewish — all lives should matter and nothing warrants police officers' lives lost. We want this to resonate far and abroad."
According to the outlet, Edwards residents have given the new decals a glowing endorsement, saying the message reflects their beliefs and values.
"Letting us know that black lives matter, all lives do matter, it makes you feel free just to see police officers riding around, make you feel free and good," a community member named Von Mack told News Now.
Still, the mantra hits a nerve in national conversations about police brutality and race in the United States. As a Reddit user pointed out last year in a viral thread, the phrase "All Lives Matter" willfully ignores the problems disproportionately affecting people of color. 
And, as this widely viewed comic strip pointed out, saying "All Lives Matter" is like spraying water on a house that isn't on fire, while the one next door is in flames.
Of the bumper stickers, Mayfield said that while you can't "please everyone," 100% of his officers "completely agreed, the mayor agreed and everyone has absolutely loved it."
"I sympathize with those who have lost their lives after incidents with police," Mayfield told News Now. "And I also sympathize with my brothers in blue that put on a badge and hope and pray that they are able to go home to their families at the end of the day." 
Read more: