9 Photos of President Rodrigo Duterte's Brutal War on Drugs in the Philippines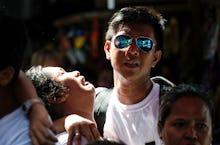 Dead bodies are being left strewn in the street, holding signs as a warning to other Filipinos, a consequence of the the Philippines' President Rodrigo Duterte's violent war on drugs. Duterte has ordered police and citizens alike to kill any drug dealers or users they encounter. 
The new president was sworn into office on June 30 and since then at least 420 people have been killed under this initiative. Even more staggering than that, at least 771 people are estimated to have been killed due to alleged affiliation with the drug trade since May 10, the day Duterte became the presumptive winner of the Philippine presidential election, according to an interactive map created by ABS-CBN, a Philippine news organization.
The body of an alleged dealer lies in the streets with a sign atop him that says, "I'm a pusher:"
Duterte outlined his plan to target drugs and corruption from the outset. 
"I know the limits of the power and authority of the president," he said during his inaugural speech, the New York Times reported. "I know what is legal and what is not. My adherence to due process and the rule of law is uncompromising."
He has publicly shamed and detained police generals and government officials accused of being associated with the drug trade. 
Furthermore, he told ordinary citizens they would receive medals for killing drug dealers and users. 
"We will not stop until the last drug lord, the last financier and the last pusher have surrendered or been put behind bars — or below the ground, if they so wish," Duterte said while addressing the Filipino congress on July 25, Reuters reports.
Organizations such as Human Rights Watch "condemn" the crackdown. HRW is one of 329 non-governmental organizations which signed a joint letter calling for an end to Duterte's campaign. The campaign's tactics "do not constitute acceptable drug control measures," the letter said. 
Yet the president's speech to congress last week suggests he has no plans of abating his war on drugs. 
Read more