Rio Olympics Day 2: Events, Schedule and What to Expect From U.S. Contingent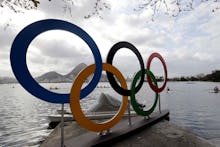 Sunday, Aug. 7 is day two of the 2016 Olympic Games in Rio de Janeiro. The action-packed day will see Team USA competing in beach volleyball, basketball, fencing and the highly anticipated women's gymnastic qualifiers, according to NBC Olympics. 
Here are some highlights from the day two schedule — and what you can expect from Team USA. 
At 10 a.m. Eastern, U.S. beach volleyball players Lauren Fendrick and Brooke Sweat will make their Olympic debuts, facing off against Poland in the women's preliminary match. Fendrick and Sweat will enter the competition seeded 15th out of 24 teams, the News-Press reported.
"Obviously we are big underdogs," Sweat said, according to the News-Press. "But if we play our kind of volleyball, trust ourselves, believe in ourselves, anything can happen in any match."
At 11 a.m., the U.S. women's basketball team will play against Senegal.
Expect big things from the U.S. women's basketball players — "the greatest female athletes in the world," former professional basketball player Nancy Lieberman said, according to CNN. The team has been a powerful Olympic force, with five straight gold medals under its belt, and seven overall, according to the New York Times. 
The men's individual foil fencing semifinals are at 3 p.m., followed by a bronze medal match and a gold medal match.
Keep an eye out for U.S. fencer Alexander Massialas as he "lunges toward gold," according to NBC Olympics. Massialas is currently ranked number one in the world, and was the youngest male member of Team USA — in any sport — at the 2012 Olympics in London.
At 3:30 p.m., U.S. beach volleyball players Phil Dalhausser and Nick Lucena will play a preliminary match against Tunisia.
Lucena was Dalhausser's first first professional beach volleyball partner back in 2003, according to NBC Olympics. The pair reunited in 2015 — and after a big win in Hamburg this summer, "consolidated their Olympic medal favorite status," according to NBC Sports.
At 4 p.m., the U.S. men's volleyball team will face off against Team Canada.
The U.S. men's volleyball team won gold at the 2015 FIVB Men's World Cup, according to NBC Olympics. Four of the 12 team members have Olympics experience.
At 4:30 p.m., Team USA's beloved women's gymnastics team will compete in the qualifiers to move on to the team, all-around and event finals. 
Gold medals are most certainly in the future for the five-woman team, which consists of Gabby Douglas, Simone Biles, Madison Kocian, Laurie Hernandez and Aly Raisman. The prowess of the so-called "Fierce Five" is largely unparalleled, according to NBC Olympics: 
The gap between the U.S. and the rest of the world has grown since the "Fierce Five" rolled to the team gold four years ago. The chance of anyone overcoming it is akin to the odds of Michael Jordan and the original "Dream Team" falling in Barcelona in 1992.
Stay tuned to see if the team makes history by winning all six available gold medals.
Read more: