Body of Queens Woman Karina Vetrano, Who Went Missing While Jogging, Found In Marsh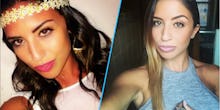 The body of a Queens, New York, woman who was reported missing on Tuesday afternoon was found in a marsh less than half a mile from her home. Authorities are investigating her death as a homicide.
According to the New York Daily News, the woman, 30-year-old Karina Vetrano, was found with her pants pulled down, and police believe that she was strangled and sexually assaulted.
After a massive search effort that began when her father reported her missing on Tuesday, Vetrano's body was found in the marshlands near 161st Avenue and 78th Street in Howard Beach, a neighborhood directly adjacent to John F. Kennedy Airport. 
Vetrano's cell phone was recovered on a nearby bike path, and her body was discovered near the shoreline in Spring Creek Park, WPIX 11 reported. A medical examiner will conduct an autopsy to determine the cause of death.
Upon hearing that Vetrano was missing, neighbors immediately expressed concern that she had befallen danger, citing "vagrants" that live in the swampy area.
"I hear there's a couple of shanty houses out there," one neighbor, who identified himself to the Daily News as John, said.
"She used to go jogging with her father," he added. "If the weeds were not that tall, we would have seen the girl jogging on the path ... You can grab that girl, and we wouldn't know it." 
Vetrano, who described herself as a "thrill seeker" and a "day dreamer" on Instagram, had earned her master's degree from St. John's University in 2015 and had been working as a caterer at Vetro Lounge at the time of her death.
Read more: