DC-Area Transit Police Officer Arrested for Possible Collusion With ISIS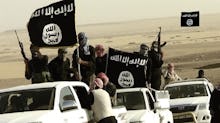 A Washington, D.C.-area transit police officer was arrested Wednesday morning and charged with attempting to support the Islamic State group, following an FBI sting carried out last month.
Nicholas Young, 36, of Fairfax, Virginia, is the first law enforcement officer in the U.S. charged with terror-related crimes, the FBI said, according to the Associated Press.
Young had been under surveillance since 2010. Since then, he'd gone to Libya twice in 2011, allegedly to join forces attempting to overthrow dictator Moammar Gadhafi. According to an FBI affidavit, the AP reported, Young had purchased around $250 in gift cards meant for Islamic State members to use to buy mobile apps to potentially communicate with other members. One of the recipients of the cards was actually an undercover FBI source.
Young had been working for the Metro Transit Police since 2003, the Washington Post reported.
"Obviously, the allegations in this case are profoundly disturbing," Metro General Manager Paul J. Wiedefeld said in a statement, according to the Washington Post. "They're disturbing to me, and they're disturbing to everyone who wears the uniform."
Young allegedly told an undercover agent about his desire to kill FBI agents and bring weapons (of which he apparently owned many) to FBI headquarters, the Washington Post reported. But according to authorities, Young made no specific or credible threats against the Metro system.
Young is just the latest in a string of nearly 100 men and women in the U.S. being charged for allegedly having connections to ISIS. As of Aug. 3, 43 were convicted, according to the Washington Post.
Read more: