An Edition of 'Harry Potter and the Cursed Child' For People With Dyslexia Is Coming Soon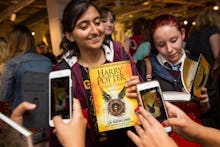 Pottermania kicked off again last weekend with the release of Harry Potter and the Cursed Child, a continuation of the Harry Potter series in the form of a script, written by playwright Jack Thorne and based on a story by the series' creator, J.K. Rowling. The book has been an instant success, selling 680,000 print copies in its first three days in the U.K. — and soon, a special version of the script will ensure people with dyslexia can read the much-anticipated story, too. 
W.F. Howes, a publishing house that specializes in large-print editions and audiobooks, will release a version of Harry Potter and the Cursed Child specifically designed for readers with dyslexia, the Independent said on Wednesday, citing reporting from the Times.
The special edition, which is being designed along with the British Dyslexia Association and the University of South Wales, will feature "blue text printed on a beige, slightly thicker paper, with larger letters, wider margins and a simple sans-serif font throughout," the Independent reported.
The Harry Potter series' newest installment picks up 19 years after the conclusion of the seventh book in the series, and follows Harry and Ginny's youngest child, Albus.
The dyslexia-friendly edition of Harry Potter and the Cursed Child will be released in September, and there are already braille and giant print editions of the book available.
Read more: