7 Times Constance Wu Called Out Hollywood's Diversity Problem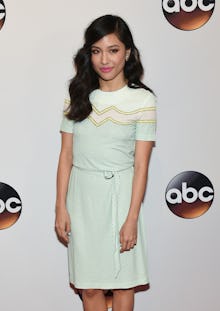 As the lead actress on ABC's Fresh off the Boat, Constance Wu is one of television's most visible Asian actresses. And while she's garnered several award nominations for her work on the show, Wu's offscreen persona has proven quite captivating as well. 
In the age of #OscarsSoWhite, Wu's voice has emerged as one of the most critical against the whitewashing of Asian actors on film and television, as well as the biggest advocate for diversity in front of and behind the camera. Take a look at several instances where she nailed the problem with diversity Hollywood:
When the trailer dropped for Damon's upcoming Asian-themed fantasy action film, Wu responded on her Twitter account only one day later. Her scorching tweet asked us to destroy the "racist myth that [only a] white man can save the world" and called hiding behind money concerns the "lamest excuse in the history of being human." 
After an image of Scarlett Johansson in her starring role in the upcoming Ghost in the Shell film began to circulate online, Wu asked people to think about how systemic racism affects casting in Hollywood. 
"A lot of people's visions of who they think looks like their hero is rooted in systemic racism," Wu said in April. "I don't think it is bad for them to be challenged to think outside their boxes. ... I don't think it will reduce their work for them to think, 'What if I cast this person as a Latina?'"
3. When Wu said Hollywood executives try to speak down to her about Hollywood racism
Wu's remarks haven't made her the most popular among people who make decisions in Hollywood — the same gatekeepers who have the power to change the way TV and film industries look.
"I've gone into a lot of executives' offices since this stuff has come out," Wu said. "And when I talked about it or when they bring it up, they start white mansplaining why I'm wrong and why I am dumb, and why they're good people."
4. When Wu nailed the problems Asian actors face when trying to get a shot at a leading role
While opportunities for white actors to land white roles are easy to come by, the same cannot be said for Asian actors trying to land Asian roles. Earlier in 2016, Wu spoke about the mental stress many Asian actors feel about the limited availability of Asian roles. 
"An Asian person who is competing against white people, for an audience of white people, has to train for that opportunity like it's the Olympics," she said. "An incredibly talented Asian actor might be considered for a leading role maybe once or twice in a lifetime. That's a highly pressured situation."
5. When she shut down the notion that a character's ethnicity doesn't matter
In an interview with Jezebel, Wu pushed back against the idea of characters who "happen" to be people of color and don't allow a character's ethnicity to inform the story or the character's arc. Wu used her own history as an example. 
"My grandfather was an illiterate bamboo farmer and my dad really had to work himself up academically to get a full ride scholarship and a Ph.D. in biology in America," she said. "He didn't have a leg up anywhere, he had to work to get that. To even say that that type of journey has nothing to do with my place and opportunities now is dishonorable."
6. When she explained to everyone what "diversity" really means 
While appearing on Bullseye with Jesse Thorn, Wu said that diversity is about much more than white people behind the camera creating characters of color, Fusion reported. 
"[Diversity] doesn't mean we want the white people to write Asian stories," she said. "What I want is to foster the Asian-American writers and directors and producers and actors...foster their stories to come into the spotlight a little bit."
7. When she reminded everyone that Asian characters aren't here to do white characters' taxes 
In an interview with Time, Wu explained why Fresh Off the Boat's kind of representation matters — because the characters on the show are the main attraction.
"I wouldn't say that just visibility is important," she said. "I would say visibility as the stars of a show is important. That says that our stories matter. We're not here to do the taxes of the white person, or to be the chipper best friend to the white person. It's important to see Asians in those leading roles because it changes what I'm calling the anglo-heteronormative status of TV."
At a time when Hollywood doesn't seem too keen on elevating Asian talent, Wu refuses to let the norm remain the standard. When it comes to Wu and her on-point responses to the diversity problem, her character Jessica Huang put it best: 
Read more: