How to Get Your Photos and Information Off Your iPhone When You're Switching to a New One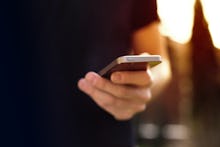 If you're getting a new phone, you have to get your information off your current one. You'll want to remove your contacts, photos, etc. from your iPhone so you can transfer them to your new phone and so your personal information doesn't get into the wrong hands. 
Here's how to save the stuff that's on your iPhone and delete it from your phone if you're switching to a new one. 
Back up your account
You can back up your iPhone through iCloud or iTunes. 
To set up an iCloud backup, first connect to Wi-Fi. Then go to the settings menu and hit iCloud. 
Once you're in iCloud, tap "iCloud backup" and turn that on. You can select "back up now" to immediately back up your iPhone to the iCloud. 
You can also back up your iPhone to iTunes by plugging it in to your computer. 
Delete the information from your iPhone
If you're getting a new phone, you'll want to delete your photos and information from your old phone once you've backed it up, especially if you're selling your old iPhone.
To delete everything from your iPhone, start by disconnecting your iCloud account. Go to settings, then iCloud, then scroll to the bottom and hit "sign out." 
You'll then be prompted to sign out again, with a warning that doing so "will disable Apple Pay and will remove your cards." Your photos in the iCloud Drive and iCloud Photo Library and Photo Stream will also be taken off your iPhone. 
Then you'll need to reset your phone. Go to settings, then select general and hit the reset button. There you'll hit "erase all content and settings." You may be asked for a few passwords. When all of that is over, tap erase. 
Read more: