Azealia Banks Quits Social Media for Good — Here's Why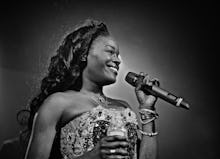 Is it really quitting if you were already fired? 
Azealia Banks is shutting down all of her social media profiles that allow her "to engage with people," writing in a Facebook post she's grown tired of reading people's feelings, reactions and responses to "everything."
"I'm seriously tired of people's feelings," Banks began. "I'm tired of seeing their overly sensitive reactions and responses to everything. I'm tired of having everything I say or do be monitored and I'm tired of being told how I should be behaving."
The rapper and part time troll was already given the boot from her go-to social media platform, Twitter, after repeatedly sending scathing and racist tweets to Zayn Malik and other entertainers, violating Twitter's content policies. 
Banks, who is currently attempting to promote "The Big Big Beat" on her limited platforms, has now decided her "legacy can't live and die on the internet," despite her infamy essentially being spawned entirely online.
"I'm quitting Facebook, and any other form of social media that allows me to engage with people," the artist signed off. "Goodbye. For good."
The announcement comes a little over a month after Banks also revealed on social media she was "tired of rapping," and wants to be referred to as a singer. Look forward to an entirely new Azealia Banks coming soon.
Read more