'The Little Prince' Reviews: Here's What Critics Are Saying About the Adaptation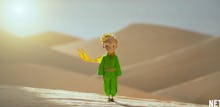 While the film never got a theatrical release in the U.S., that doesn't mean The Little Prince isn't worth your time. The English-language adaptation of the children's novel of the same name by French author Antoine de Saint-Exupéry hits Netflix Friday, and the critical consensus is that the movie lives up to its source material. 
Currently holding at a 95% "fresh" rating on Rotten Tomatoes, critics have doled out praise for the film's compelling narrative.
Scott Foundas wrote in a review for Variety after the film's screening at the Cannes Film Festival:
To the sure relief of armchair aviators everywhere, director Mark Osborne's 'The Little Prince' turns out to be a respectful, lovingly reimagined take on Antoine de Saint-Exupéry's classic 1943 tale, which adds all manner of narrative bells and whistles to the author's slender, lyrical story of friendship between a pilot and a mysterious extraterrestrial voyager, but stays true to its timeless depiction of childhood wonderment at odds with grown-up disillusionment.
More specifically, as Brian Tallerico noted in a review for RogerEbert.com, the film's message is something that children and adults alike will find engrossing:
Ultimately, 'The Little Prince' is a film that everyone should be happy to show their children. They might get a little bored, but if they even take away a positive theme or two, it's worthwhile. And, in the end, adults might remember an important truth about the world as well. Becoming an adult doesn't mean giving up on dreams, whimsy, imagination or love. It's a lesson that children's fiction has been teaching us since long before Saint-Exupéry published his hit novella.
Brad Wheeler in a review for the Globe and Mail said the movie is "a whimsical journey in favor of following dreams and finding life's true loves — a film for young audiences as well as for the oldies who've lost their way."
So, when looking for something new on Netflix this month, The Little Prince is a good place to start. Just get some tissues ready. 
Read more: