Britney Spears 'Glory' Album Release Date and Preorder Announced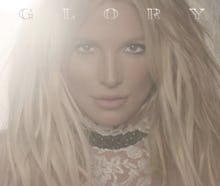 We have entered into a glorious new era, according to the Queen of Pop. Britney Spears announced Wednesday afternoon her new album Glory is on its way, with a projected release date of Aug. 26, to premiere exclusively on Apple Music. 
The announcement comes on the heels of Spears' new single "Make Me," which debuted in the Billboard Top 10 and marked her comeback to the mainstream music limelight. Glory will be available for preorder midnight Wednesday.
Spears shared the announcement across her social media, sharing the original album artwork, with Spears in a lace top. "Make Me" is Spears' first single in three years, though she has maintained a loaded schedule performing in Las Vegas and at 2016's Billboard Music Awards — a performance that drew a mixed response at best.
"Make Me" though is her strongest offering in years, more compelling than anything off her previous Britney Jean. We really might be entering into a new era her storied career. Fans shall see at the end of the month.
Read more