Newest Ad By GOP Candidate For Governor of Missouri Is Just Him Firing a Minigun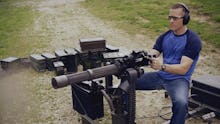 Eric Greitens, former Navy SEAL, veterans' advocate and, as of Tuesday, the Republican nominee for the governorship of Missouri, would like voters to know he really, really likes guns. 
In recent weeks, Greitens' campaign has released two very unsubtle ads showing the candidate as he would like to be seen by constituents: firing high-powered weaponry. The two spots portray Greitens as someone who will "take aim at politics as usual."
The most recent ad features a narrator intoning Greitens will "fight Obama's Democrat machine and their corrupt attacks" while firing a minigun, a high-caliber rotary cannon originally designed for use by military aircraft in dogfights or to destroy ground targets like fortified positions and armored vehicles. The only thing Greitens himself says in the ad is, "I'm Eric Greitens. Join our mission — let's take back Missouri."
In another ad released in early June, Greitens says "I'm no career politician. I'm a Navy SEAL — and I'll take dead aim at politics as usual." He then fires a rifle into a field, which explodes.
_____________________________________________
Read more: 
_____________________________________________
"If you're ready for a conservative outsider, I'm ready to fire away," the candidate adds.
The Chicago Sun Times reported that while Greitens has a long resume including military service, a fellowship in the George W. Bush administration, a Rhodes scholarship, a taekwondo black belt and authorship of three books, he has also sold bumper stickers "described as 'ISIS hunting permits'" as part of his campaign funding strategy.
His Democratic opponent, Chris Koster, is also a firm supporter of gun rights.
According to Everytown For Gun Safety, a group which bills itself as promoting common-sense reforms to reduce gun violence, Johns Hopkins researchers found that gun trafficking and gun homicides throughout the state soared after Missouri dismantled its firearms permitting system and eliminated requirements for background checks on firearm purchases in 2007.