Because we want you to cry, here is a catalogue of beautiful Obama moments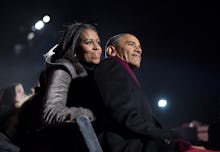 Sometimes you just need a good cry. A hearty weep to get you through the tough times — like when you've lived eight years with this wonderful first family that's open and loving and honest and seems like they're authentically fun, but you have to say goodbye because various members of a new family are coming to take over (and probably gild) their home. 
How to say goodbye? Is it healthy or definitely detrimental, a big emotional step backward, to indulge in a nice long scroll through a compendium of really fucking lovely moments between Michelle and Barack Obama? Does it even matter anymore? Please join us in a teary but cathartic stroll down memory lane with America's mom and dad. 
Here they are, trading high fives for Halloween candy at the White House's 2016 Halloween event for children of military families.
The entirety of their September 2016 Essence photoshoot and feature was a beautiful moment.
Here is a cute vid the Obamas made about the Olympics, in which the most important message is probably the takeaway, something many of us need now more than ever: "We're behind you, every step of the way. We love you."
In honor of Barack's 55th birthday, Michelle tweeted that his smile "still gets me every single day" and the internet responded with a resounding "same."
In a pre-State Dinner photo opportunity in August, Barack stepped aside to spotlight his wife, who looked radiant. Thumbs up, yes, same!
Here they are, welcoming the Philippines' prime minister and first lady, for which the triumphant horn accompaniment is surprisingly well-suited. Michelle removes a stray something from Barack's face. Excellent team work, very good. 
STOP IT. STOPITRIGHTNOW. (It was a very good speech.) (Never stop.) (Afraid for the future of the @POTUS Twitter account.)
Remember when the Obamas stumbled upon a baby dressed up as the Pope for Halloween 2015 and our beloved president promptly dissolved in a fit of giggles? This one is more about Barack. Just look at him. 
That time the Obamas hosted a Girl Scout campout on their front lawn in June 2015 and Barack got to come for a little bit, but ultimately, Michelle kicked him out because "girls only." It was cute.
Remember #NationalBestFriendsDay 2015, when Barack tweeted this? His dad pants were perfection and also we're weeping.
Here they are at a 2015 state dinner, that is all you need to know.
The creepy fucking rabbit looking on in heart-warmed joy is all of us, to be uncomfortably honest. (The Easter Egg Roll, 2014.)
Hosting the White House talent show in 2014, making out real quick. HI HELLO THERE WE SEE YOU.
The president and first lady at what is quite possibly their favorite event of every year, White House trick-or-treat for military families. (Seen here in 2013.)
The first dance of Barack and Michelle's second term. Looks fun, so glad we could be there to share this special moment with them.
This adorable photo tweeted by the @BarackObama Twitter account when Barack won the 2012 election and claimed a second term in office and we cried real tears.
That time they canoodled onstage at an Iowa campaign event in 2012, which may or may not have sealed a second term for Barack tbh. 
Look how elegant they are before a 2011 state dinner with the president of South Korea and his wife. Look how goddamn elegant. 
Here are the Obamas, surrounded by elves in December 2011. Holiday magic.
The infamous Kiss Cam snafu of the London 2012 Olympics. The U.S. men's basketball team played Brazil. Michelle appeared to shoot down Barack when he went in for the kiss after the couple were captured on the cam. Allegedly, she had just arrived and had no idea what was going on. We believe her. They figured it out.
THEY WERE PLAYING MINI GOLF, PEOPLE, JEEZ BACK OFF. (In Panama, 2010.)
I, too, find Michelle to be more interesting than basketball. (Watching some sports in 2010.)
PDA onstage at a rally in support of the Democratic party, heading into the 2010 midterm elections. 
Inauguration day 2009! So excited. Such fun. Many memes. Memes weren't really a thing yet, though.
When they danced at the inaugural ball in 2009, remember that?
This happened after Barack officially accepted the presidency in 2008.
Michelle and Barack had a goddamn ball at the ballot box in 2008.
EW, GROSS, STOP IT MOM AND DAD. (Never.)