Amid Olympic Rush, Brazil's Hotels Join the Fight Against Human Trafficking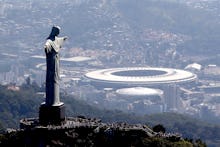 As the world's eyes focus on the Olympic Games in Rio de Janeiro this month, hotel workers in Rio will have their eyes trained on something else entirely — they will be watching out for telltale signs of human trafficking.
With as many as half a million visitors expected to visit Brazil for the Olympics, the global hospitality industry is seizing on the moment as an opportunity to address two important issues at once: human trafficking and youth unemployment. The two are closely related. The lack of economic opportunity leaves youth vulnerable to human traffickers who lure them into forced labor and sexual exploitation. Once liberated from their captors, survivors face enormous challenges in resuming their lives, including finding jobs.
Hotels, as it turns out, are uniquely positioned to address both of those issues. Because hotels are places where trafficking can happen, hotel staff working on the front lines can help by picking up clues of sexual exploitation. And as employers, hotels are able to offer career-readiness training and entry-level jobs for young survivors of human trafficking.
"Hotels are one of very few places where human trafficking can be identified," said Michelle Guelbart, Director of Private Sector Engagement at ECPAT-USA, an advocacy group that works to end sexual exploitation of children. "A lot of hotel employees see signs of trafficking, but they don't always know what they're looking at. This training gives them the tools to act. It gives them the opportunity to help change someone's life."
An ambitious plan 
It's two weeks before the start of the Olympic Games, and all hands are on deck at the JW Marriott Hotel in Rio de Janeiro to prepare for a massive influx of visitors from all over the world.
As part of the preparations, hotel associates also must complete an ambitious new human rights training program jointly developed by Marriott International Inc. and ECPAT-USA with assistance from Polaris, another leading anti-trafficking organization.
While hotels do train some of their staff to spot signs of human trafficking and other criminal activity, much of the training is for security personnel only and to date has focused only on sexual exploitation of children. This new training program is the first to include information for nearly all job functions within a hotel, including those working in the hotel's lobby, guest rooms, hotel restaurants and in security. It also covers forced labor, a topic not previously addressed. The new training program, currently in Portuguese, will be available in 14 additional languages and given to the American Hotel & Lodging Association — which represents 53,000 properties worldwide and employs 1.9 million people — for distribution to the broader industry. Having that many eyes and ears attuned to signs of human trafficking can be a massive boon in the fight to identify and eradicate modern-day slavery.
"As we are hosting the Olympic Games, training our associates about these topics is more than necessary," said Anderson Souza Leal, a Loss Prevention Manager for the JW Marriott in Rio de Janeiro who took the training when it first became available in July.
"When you work in a hotel, it's 24/7, and we have to be aware of everything that happens in the hotel," said Murillo Cortez, who oversees 60 workers as the Rio property's housekeeping manager and also completed the training last month. Often, however, associates work alone and may be uncertain of what to do upon seeing something suspicious. "The training was good because it tells us what to do. We need to bring a supervisor to the situation and discuss what we've seen before we take any further steps."
The training includes specific examples of what sort of signals hotel staff should be watchful for. For those working at the registration desk, that could include guests who pay with cash and book only one day at a time. For housekeeping, it could be frequent requests for large number of towels and sheets. Security personnel can keep an eye out for people who escort men into rooms on the hour or half-hour and linger by the door until the men leave. Restaurant staff are advised to identify possible victims by keeping a lookout for people who seem disoriented and are accompanied by many older men.
"In the middle of our training sessions, we often get an 'ah-ha' moment from someone," said Guelbart of ECPAT-USA. "They'll recall something they'd seen in the past, and the light bulb goes off. They may have had a gut reaction, something that wasn't quite right, but they didn't know what to do because they didn't have the language for it, or they didn't think it was their place to say anything. Giving them the tools and proper protocols makes a huge difference."
According to Guelbart, a decade ago, Marriott was one of the few hotel companies that would address human trafficking. Most other companies were reticent to tackle the issue, fearing the liability should guests be falsely accused.
"This was a major stumbling block, especially with hotel general counsels, when I started approaching hotels six years ago" Guelbart said. "When they understood that this wasn't about the hotel, that it was about traffickers using the industry for criminal activity, they started to act. It started to be seen as part of the security protocol."
Adding up the clues
To guard against false accusations, Marriott is encouraging its staff to stick closely to a protocol designed to protect both guests and staff. Workers are encouraged to report any suspicious signs to managers, who would then coordinate with other managers as they go on the alert for additional signs. If enough clues pile up, hotel managers contact law enforcement to take things from there.
"There's no single indicator for human trafficking. It's a combination of indicators," said Tu Rinsche, who leads human rights at Marriott as director of corporate social responsibility. "We advise our associates to share what they see or hear with their supervisors who can evaluate all the indicators and engage law enforcement. One of the trickiest elements of human trafficking is that it's very difficult to see and detect, even when it's right in front of you. That's why it's important to learn the combination of different indicators."
These days, traffickers are also leaving behind digital clues. Some bring with them a panoply of mobile devices used to swipe credit cards and process payment. Others tell clients to bring gift cards, which are generally untraceable, as payment; once traffickers have cashed out the cards, they toss them in the hotel room waste bin.
"If you are a housekeeper and you see a bunch of credit card swipe machines and discarded gift cards, coupled with lots of used condoms and dirty towels, you could report that," Guelbart said. "Then your manager notices that the room was paid for in cash, and the security staff reports seeing men coming and going at all hours. Those signs by themselves might not be cause for concern, but together, they can help tip off hotel staff. It's often an unusual or excess amount of everything, not any one thing."
An Olympic opportunity
The 2016 Olympic Games represents a major opportunity — for both traffickers and the groups that fight them. On the one hand, traffickers see the massive influx of tourists as a potential source of business. In addition, the concentration of primarily young male construction workers hired to build sporting facilities is another source of customers. While there's little hard evidence that human trafficking activities increase during major sporting events, studies have shown plenty of anecdotal evidence that such crimes do occur both in the U.S. and internationally.
Forced labor is particularly problematic prior to the events. Research from Brunel University London states that past "incidents include children's involvement in the manufacturing of sporting goods, the construction of stadiums, and forced begging or selling of goods on the street." The report cites evidence of child laborers in India and Pakistan hand-stitching soccer balls for the 1998 World Cup in France and another case of children as young as 12 making Olympic merchandise for the Beijing 2008 Olympic Games. It also found cases of forced child begging during the 2004 Olympic Games in Greece and the 2010 World Cup in South Africa.
"International sporting events can present a problem," said Priscila Costa, Partnerships Manager for Latin America at Youth Career Initiative (YCI), a nonprofit program that helps disadvantaged youth, including survivors of human trafficking. "But it's also an opportunity to raise awareness for something that happens every day of the year."
A bigger hurdle for Brazil
Brazil is far from immune from human trafficking. Last year, labor inspectors liberated 11 trafficking victims who were forced to work on the construction of the Olympic village, according to the U.S. State Department. Each worker was awarded $5,700 in back wages.
Youth unemployment among those aged 15 to 24 years, estimated to be 15.8% in 2015, is likely to be further exacerbated by the country's current economic recession. Coupled with what Costa characterized as a blasé social attitude in Brazil towards child sexual exploitation, conditions are ripe for human trafficking. In a 2013 survey of 316 construction workers throughout Brazil, 57% confirmed that children and adolescents nearby big construction projects were being sexually exploited, while 25% of them admitted to have had sex one or more times with adolescents. The survey, conducted by advocacy group Childhood Brasil, concludes that "In the eyes of this population of male workers, there is no sexual exploitation of children and adolescents. They are not seen as victims even as children or adolescents."
Brazil also lacks social infrastructure and resources to identify, rescue, shelter and rehabilitate human trafficking victims, Costa said. "Not only are our institutions not ready, but the public also doesn't understand that human trafficking is a problem," she said. This is slowly beginning to change, thanks to public awareness campaigns around the 2014 FIFA World Cup in Rio de Janeiro and now with the 2016 Olympics. But what really drove public debate in Brazil was the telenovela Salve Jorge, featuring a young woman who has been lured into an international human trafficking ring. The show ran for 179 episodes from 2012 to 2013.
"With 80% of TV sets turned on every night to novelas, this show did a great deal to motivate public debate everywhere in Brazil," Costa said.
Dual role for hotels
While hotels are well-suited as places to monitor for human trafficking and forced labor, they're also ideally equipped to provide jobs for survivors who have gone through rehabilitation and are ready to re-enter the workforce.
Hotels employ millions and offer plenty of entry-level jobs. Many large hotel chains also offer regular promotions, creating career paths from entry-level to management positions. And they have many job roles, from reception, culinary and housekeeping, to security, sales, marketing and finance. Skills learned at a hotel can easily be transferred to other sectors.
"The hotel is a mini-university, with long-term career prospects," said Alberto Canovas, head of YCI, a program created in 2004 by the International Tourism Partnership, a hotel industry group. "It's an ideal sector to train young workers." In 2010, YCI received a grant from the U.S. State Department to create a six-month career development program to reintegrate [human trafficking] survivors back into society. Over the past 12 years, 85% of YCI's 3,350 graduates have either found permanent jobs or have gone on to get further education.
For some survivors, having a stable job is everything. That was the case for Pria*, a soft-spoken survivor who works in housekeeping at a hotel in India. "The hotel she works in normally has an issue finding people willing to work in laundry," Canovas said. "When Pria was offered that job, she really embraced it. She loved the routine. For her, it provided stability and safety. Some young people yearn for that."
For Abby*, a 21-year-old survivor of human trafficking in India, YCI gave her an opportunity to rebuild her life through career training at the JW Marriott in Mumbai. "During the course, I learned how to communicate with guests, knowledge of different products, language, customer satisfaction, welcoming guests," said Abby, who now works in human resources.
Abby's experience represents a milestone, both for her and the many entities that help make such stories happen — from fellow hotel workers who help identify human trafficking and the social organizations that help to rehabilitate and reintegrate survivors into society.
"This issue is really, really tough. It's a huge global challenge," said Marriott's Rinsche. "No one actor will be able to make a dent in creating positive change without working with others around this. It takes a great deal of collaboration."
Human trafficking "is a problem not just in Brazil but everywhere," said Cortez, who worked at the Marriott in London before being transferred to his home country of Brazil in 2004. "Every day, I tell our associates they should keep an eye on the corridors, halls, lobby. The hotel is a neutral place where people do all kinds of things. We need to be prepared for everything. All of us should be aware, and this should go for every country and every hotel in the world."
*Names have been changed.