6 Things to Know About Gabriel "Gabigol" Barbosa, Rising Brazilian Soccer Star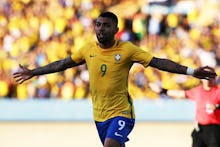 Brazil has a long tradition of turning out world-renowned soccer players — retired soccer player Pelé, for instance, rose to fame as one of the world's greatest known athletes and possibly the best soccer player of all time. Perhaps the next name in that lineage is 2016 Rio Olympics athlete Gabriel "Gabigol" Barbosa. 
The 19-year-old soccer prodigy is participating in his first Olympic games for the host country Brazil. When he's not playing for the Brazilian national team, Barbosa plays for Santos FC of the Campeonato Brasileiro Série A, Brazil's top soccer league. Santos FC is the same club that featured Pelé as well as other well-known soccer names, including the most popular soccer player in Brazil right now, Neymar.  
Barbosa is no doubt making name for himself worldwide for his soccer skills and his promising scoring record (he's scored a goal every two games so far in Brazil's current soccer season). 
There's a lot to know about "Gabigol" beyond his Olympic debut this summer, so here are six things to know about Barbosa:
1. According to IOC official website, Gabriel's nickname "Gabigol" is a combination of his first name and the Brazilian Portuguese word for "goal."
2. Barbosa made his Brazil senior national team debut on May 29, 2016 against Panama during an exhibition match in Colorado. In that match, he also scored his first goal in the 2-0 Brazil victory.
3. Barbosa won the 2015 Bola de Prata (Best Newcomer in Brazilian soccer) after scoring 21 goals in all competitions during the year. 
4. Famed Brazilian scout Alberto Alves Coelho "Betinho" knew early on that Barbosa would be a magical player when he bought Barbosa in, according to the National Post. "Many have said that he has no strength and resistance to make it as a professional," Betinho told GloboEsporte.com, according to the National Post. "But a few years ago, I said that Gabriel would be the idol of a generation. He is a healthy, dedicated, and focused boy, born with the gift of [scoring] goals."
5. When signing with Santos, a transfer fee was attached to Barbosa's contract. According to Explaining Soccer, a transfer fee is money that the team acquiring a player must pay to the player's former team. To obtain Barbosa, a team will have to pay Santos a transfer fee of €50 million, which is $55.7 million U.S. According to The Sun many international powers such as Arsenal, AC Milan, and Juventus are linked to acquiring Barbosa and paying that fee
6. "Gabigol" has become something of a YouTube and social media sensation.  One video showing Barbosa's mesmerizing skills has well over 775,000 views. His Instagram account has over 570,000 followers. 
Read more: