Ayesha Curry's Drinkable Soup Is the Antithesis to the Juice Craze — And It's Damn Tasty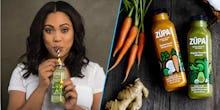 She might be married to Golden Gate Warrior Steph Curry, but Ayesha Curry isn't your average NBA wife. She's feisty on Twitter. She's got her own YouTube channel. She has a cookbook. And now, she's got something that'll make you want to sip your vegetables. 
Curry is a spokeswoman for Zupa Noma, a new brand of soup that's bottled, not canned. It's available in the grocery store Sprouts, or curious soup fans can order it online. 
The organic soups are chilled and come in six flavors: Yellow Pepper Habanero, Tomatillo Jalapeño, Carrot Coconut Lime, Beet Orange Basil, Cucumber Avocado Fennel and Tomato Gazpacho. 
_____________________________________________
Read more: 
Drinkable soup might just be the perfect antidote to America's love affair with sugar-packed juices. 
The soups offer the convenience of juices with better nutrition: The six flavors have more fiber and fewer grams of sugar compared to traditional juices. Zupa soups have up to 85% less sugar than most cold-pressed juices, the company said in a press release. Plus, they have 90% less sodium than one can of Campbell's soup. They're surprisingly refreshing — more filling than a juice or soda yet lighter than a bottled smoothie. 
Thicker texture and sophisticated flavors elevate these drinks. They're kind of like vegetable smoothies, but way better than a can of V8 vegetable juice. 
Here's what Mic thought of the flavors:  
Carrot Coconut Lime: Reminiscent of that carrot ginger salad dressing at many sushi restaurants — aka liquid crack. 
Beet Orange Basil: Smells like pasta sauce, tastes like a beet and cucumber smoothie with a hint of basil. 
Cucumber Avocado Fennel: The tamest in the flavor department. Mellow cucumber shines through, accompanied by a hint of creamy avocado. 
Tomatillo Jalapeño: Tastes like mildly spicy salsa, with a refreshing kick of heat. 
Tomato Gazpacho: One of the best flavors. Really tastes like high-quality gazpacho with a uniform texture (no chunks).
Yellow Pepper Habanero: Prepare for a wallop of turmeric that wakes up your taste buds in the best way. Has a pleasantly fiery aftertaste.  
Snack attack, solved
Jon Sebastini, the man behind Krave Jerky, dreamed up Zupa, Eater reported. Sebastini said he wants to "disrupt" the $8 billion-a-year soup industry in the United States.
But don't throw shade at chicken noodle soup just yet. With just 80 calories to 150 calories per bottle, Zupa is more light snack than meal replacement. Most have 3 grams to 5 grams of fiber and 2 grams to 4 grams of protein, more than the average juice ("Lucky Seven" from Juice Press has 1.5 grams and 3 grams of protein) but not as much as a typical smoothie ("Amazing Greens" from Jamba Juice has 5 grams of fiber and 11 grams of protein.) 
We can't help but wonder how often the Currys sip on Zupa. Do they sip on Beet Orange Basil after hitting the gym together? Or do they like Tomatillo Jalapeño?  
Did they bring Zupa along when they took a family trip to Disney World? Seems like an appropriate time for some to-go Tomato Gazpacho. 
Whether the Currys drink the soups regularly, the beverages are a slam-dunk snack. Well done, Curry fam. With Steph repping Brita water, this dynamic duo is keeping America healthy one sip at a time.