'Mr. Robot': What Is Whiterose Up to — Aside From Inciting More Chaos?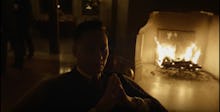 It's quite fitting that Elliot begins the fifth episode of Mr. Robot's second season by going back to his hacktivist roots — and enjoying himself in the process. "I live for this shit," he says to himself and the audience as he begins an elaborate scheme to hack the FBI. 
Viewers, too, live for pulsating sequences like the hyperactive hack — we're finally transitioning from Elliot's inner turmoil with Mr. Robot toward something substantive in season two. In turn, Elliot's not the only character making moves in the episode: Darlene and Angela team up to help perpetrate the FBI hack, and Joanna Wellick coolly arranges a murder for a man she can no longer afford to bribe. 
But really, the character who closes out the episode with a literal bang also has the most revealing and exciting arc: Whiterose, a transgender woman at the helm of the mysterious hacker collective, the Dark Army, which helps fsociety execute its initial hack on Evil Corp. Now, however, we know who she is when she dresses herself as a man. 
As it turns out, Whiterose by day is China's Minister of State Security (briefly called Zheng in a meeting), who has offered to help the FBI in its ongoing investigation to discover the identities of fsociety's members. For viewers who saw a bonus scene from Mr. Robot's first season — or simply know what actor B.D. Wong looks like — the reveal wasn't exactly surprising. 
But the series made it plainly clear when FBI Detective Dom DiPierro attends a party hosted by Whiterose, and enters a room full of clocks (per the first season's lone scene with the character, Whiterose values every second of her time and keeps a strict, meticulous schedule). 
It's when Whiterose confronts Dom, however, that the sequence piques curiosity. Despite the fact that Whiterose is speaking with an FBI agent — one she clearly knows about, having pulled her file on-screen in the previous episode — she is willing to show her a collection of traditional Chinese dresses from several eras. They're from Whiterose's "sister," of course, but it's a poorly conceived lie that Dom later reveals to have figured out for herself. 
However, while Dom mentions this to a colleague, her FBI group is attacked by a group of masked gunmen, which the audience is left to presume is the work of the Dark Army and Whiterose. It's a chilling scene, filmed with a tracking shot through the perspective of Dom, who leaves the shootout alive. But if we assume Whiterose was behind the attack, what exactly was the point? 
Whiterose's true identity wasn't known by the FBI, and any hints she gave to Dom were of her own volition — but still not particularly revealing. Perhaps, as Whiterose told Evil Corp's CEO Phillip Price in last season's bonus scene, she simply enjoys "watching Rome burn." In other words, she revels in the chaos. 
Given she's helped both Evil Corp and fsociety in the series thus far, it's not a stretch. 
Alternatively, Whiterose's identities could serve as a framework for Elliot's internal struggles with his Mr. Robot personality. There's the Whiterose that meticulously tracks her time and organizes from afar, and the one that enjoys creating havoc — just as there's the shy, reserved Elliot and the paranoid, high-strung Mr. Robot in the guise of his dead father. 
If that's an endgame for the character, it suggests that the conflict between being true to oneself (showing Dom her feminine wardrobe, and potentially creating a shootout as a result) could trump whatever endgame Whiterose has for helping perpetrate the fsociety hack. That wouldn't bode well in the longterm for Elliot, either, considering the season started with Mr. Robot symbolically shooting him in the head whenever he disagreed with him. 
It's difficult to be definitive, because we still know next to nothing about Whiterose's plan — and how Price and fsociety fits into the scheme as well. But even if we're left in the dark with Whiterose's endgame, Mr. Robot is picking up narrative steam after a sluggish start to the season. Like Elliot, fans "live for this shit."
Read more: